Living Planet Report 2010
Rethinking our relationship with the natural world
Note: the 2014 Living Planet Report can be found here.

We really are all in this together. Sounds like a political slogan, but the reality is we share our planet with thousands of other species, from elephants to algae. And we need them as much as they need us. Our 2010 Living Planet Report should make everyone stop and consider the natural resources the world provides us with – and how we shouldn't take any of it for granted.

Today's the day we launch our latest health-check on the natural world, the 2010 Living Planet Report. Let's not kid ourselves – the report contains some seriously disturbing facts:

people's demand on natural resources has doubled since 1966
biodiversity has fallen nearly 60% in low-income countries in less than 40 years
freshwater tropical species have dropped almost 70%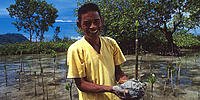 But there's good news too. In temperate (non-tropical) parts of the world, there's actually been an increase in species numbers, by around 30% on average – thanks in part to greater conservation efforts and pollution control.

At heart, the Living Planet Report is also a celebration – an uplifting reminder of what an amazing world we live in, and why the work we're doing to safeguard it is more important than ever.

The shift in thinking starts by realising we are part of nature, not just consumers of it.

Have a look at our new animation, Not Another Nature Film, voiced by Stephen Merchant and specially produced for the launch of the Living Planet Report…
Not Another Nature Film from WWF on Vimeo.
Assessing the state of the planet
We produce a Living Planet Report every two years, in collaboration with the Zoological Society of London and the Global Footprint Network. It's a snapshot of the health of more than 2,500 species, in almost 8,000 locations.

The biodiversity of species is what creates a healthy ecosystem on our planet. If we lose this, we lose our life support system.

The Living Planet Report is also a survey of the ecological footprint of human populations across the world – how much pressure our own species is putting on the planet.

The unavoidable conclusion is that far too many of us, at least in the industrialised world, are living way beyond our means – or rather beyond the planet's ability to cope with our demands.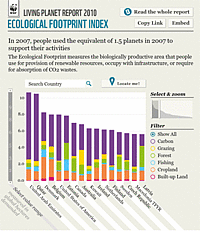 If the rest of the world consumed the way we do in the UK, for instance, we'd need 2.75 planets to sustain our lifestyles. And we're not the worst. The five countries with the biggest ecological footprint per person are: United Arab Emirates, Qatar, Denmark, Belgium, United States.

On average, the footprint of high-income countries is five times bigger than that of low-income countries. And carbon now accounts for more than half the global ecological footprint.

For the first time, the report also looks at how changes in diet and energy sources could affect the ecological footprint.

As WWF-UK's chief executive David Nussbaum says:
"The loss of biodiversity and habitats undermines the natural systems upon which we depend for the food we eat, the air we breathe and the stable climate we need.

"In the UK, all of us – government, businesses and individuals – need fundamentally to re-think our relationship with the planet.

"This report shows that we need a new green economy which assigns genuine value to the benefits we get from nature: biodiversity, the natural systems which provide goods and services like water, and ultimately our own well-being.

"The new coalition government can take a lead by putting green investment and real sustainability at the heart of its decision-making.

"The depletion of natural resources caused by human consumption also poses risks to our economic security: for instance, scarcity of resources and degraded natural systems will increase the price of food, raw materials and other commodities. So the time to take action is now."


How you can help…

Join the Big Climate Connection. Changing our energy use can ease pressure on natural resources and help tackle climate change – meet your MP and call for action to help reduce the footprint of our homes, transform our energy supply and work for a global climate deal.

Food that's good for people and nature. Call on government to take a lead in changing our food system, so the everyday choices we make about producing and consuming food don't negatively affect our world.

Help protect the world's forests. Our What Wood You Choose? campaign helps you make sure the wood and paper products you buy are from sustainable sources.