Tackling climate change
The Right Climate for Change
A guide for local authorities on reducing their carbon emissions.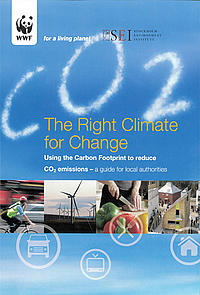 An average council produces at least 30,000 tonnes of carbon per annum; the carbon footprint of an average local authority area in England (taking into account the emissions of business and individuals as well as the council) is over 1.5 million tonnes. Action to tackle climate change in the community is therefore vital.

To help local authority officers assess the situation in their area, and identify and mobilise action in their organisation, WWF-UK and the Stockholm Environment Institute have jointly developed The Right Climate for Change, a report offering:



a national overview (data and analysis) of the carbon footprint associated with different types of local authority and with different areas of activity – consumables, housing, food, and transport;
a forecast for change for each of these activities, and a consideration of the policy context and levers for change available to local government;
an investigation into some of the issues associated with adopting a community emissions indicator and how the carbon footprint fits in.
---
Beacon awards
Sharing good practice on tackling climate change locally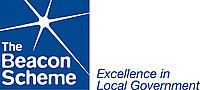 In 2008, WWF sponsored the 'Tackling Climate Change' category of the Beacon Awards - a Communities and Local Government (CLG) initiative run by Improvement and Development Agency (IDeA) to recognise "excellence and innovation" in local government.
Local authorities are uniquely placed to provide vision and leadership to local communities, raise awareness and help change behaviours. Through their own powers and responsibilities they can have a significant influence over emissions in their local areas. They can also establish a leadership role in adapting to the impacts of unavoidable climate change.

Authorities, which win a Beacon Award, are expected to have taken a strategic overview of the opportunities for reducing carbon emissions from their areas and to have put in place a strategy for dealing with the inevitable impacts of climate change. They should also have defined objectives for carbon reduction, developed innovative low carbon projects, and demonstrated practical actions to reduce emissions and adapt to unavoidable climate change.