Green Ambassadors 2015 award winners announced
Green Ambassador School of the Year 2015
Heald Place Primary School, Manchester
Prize: £5,000 for a green project in their school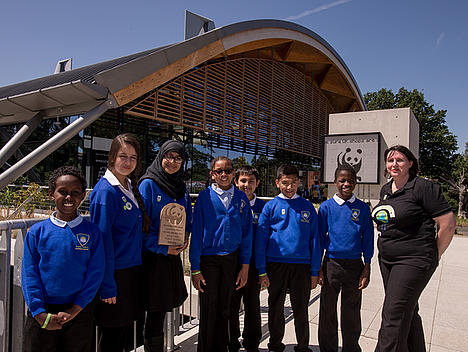 Since winning the encouraging wildlife award last year, Heald Place Primary School in Manchester have taken huge strides forward by sharing their passion and commitment with their local community and other schools.

Situated 10 minutes from Manchester city centre, in a diverse urban area, the school has undergone a period of rapid growth from 200 pupils in leaky Victorian buildings to a thriving, happy and active learning environment with 700 pupils and state of the art facilities. With so many languages and cultures in the school, the sustainability agenda has been something that everyone can share and contribute to.

It goes without saying that a school operating at this level has fantastic waste, water and energy initiatives and encourage wildlife into their grounds and have amazing growing areas, but the particular highlight for the judges this year was the very clear commitment to incorporating sustainability into the curriculum. The progression through the curriculum is exemplary and results in children leaving year 6 with a wide knowledge of the issues and having the opportunity to get practical skills too.

One of the key ingredients in Heald's success is the way that this work is supported at the highest levels through the senior leadership team. The governors in this school are really hands-on too, one of them spending a whole morning in our very hot panda suit to support our visit to the school.

Some of the WWF team have been lucky enough to visit the school and it had a profound effect. If this school was a stick of rock, sustainability would be at its core and it is a very worthy winner of the Green Ambassadors of the Year Award 2015.
---
Green Ambassador School of the year 2015 - runners up
Coastlands Primary School, Haverfordwest and Pilling St Johns Primary School, Preston
Prize: £2,500 towards a green project in their school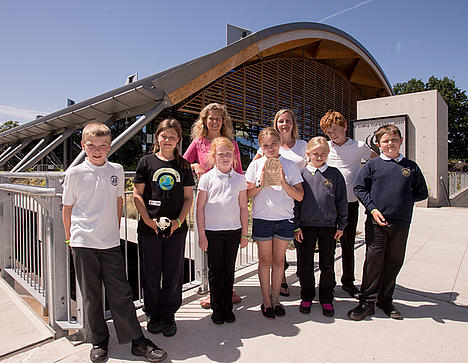 Coastlands Primary School sits in the heart of a small village in Pembrokeshire. The school may be small but they have a massive passion for sustainability and the environment! Whether they are looking at ways to travel to school, saving energy, reducing waste or finding out about fair trade, at Coastlands you can be sure that everyone will be involved from teachers, pupils, parents and the wider community.

Perched in the most beautiful surroundings, the school certainly uses what they have very effectively. From developing a small community woodland close to the school for outdoor learning to developing a growing area, these pupils love to get hands-on!

Finding ways of bringing their environmental passion into the classroom is another strength of this school. An example of this is their 'Weird weather day' which they tied into Earth Hour and during which they completed the WWF bunting challenge.

All hands to the deck at this school!



---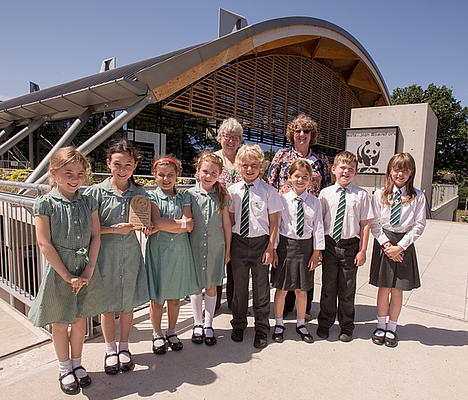 Pilling St John's CofE Primary School – runner up

Pilling St John's CofE is a small primary school which sits at the heart of a small community near Preston. Whilst the school is in a very rural environment, the team at Pilling St John's were determined to make sure their pupils were aware of the need to think globally.

Throughout the school, you can see many years of commitment to improving their school environmental performance. From the wind turbine on the field, the growing areas, the willow tunnels and bug hotels and the fantastic eco classroom that provides a living example of this school's passion for all things green.

The school has already won many accolades for their green work but the judges particularly liked the way that the school was sharing their expertise with schools locally, nationally and globally. Through the Comenius Project, the school is spreading the word globally using face to face meetings and Skype technology, this school is extending its horizons beyond the beautiful village location that they are lucky enough to be situated in.
---
Green Ambassador Pupil of the Year 2015
Kayan, William Tyndale Primary School
Prize: iPad mini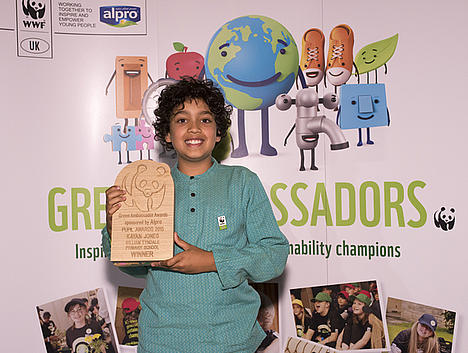 Kayan is a vital member of the eco team at William Tyndale. He regularly takes part in garden club, helps to maintain the wildlife and growing gardens during his lunchtimes. He waters, composts, tidies and even helps to teach younger pupils on how to do this properly.

Kayan takes his role very seriously. He plans and delivers assemblies which help others understand the role of the eco team and their current priorities. He is an enthusiastic energy monitor checking lights and computer screens have been switched off during breaks and lunchtimes, tracking each class' performance and awarding the Eco Champion trophy during assemblies.

He is deeply dedicated to his role and is always enthusiastic about green issues, spreading the message whenever he can. He is incredibly organised which helps ensure the Eco Team run effectively. A true green hero!
---
Green Ambassador Pupil of the Year 2015 runner-up
Spencer, Percy Main Primary School
Prize: iPad mini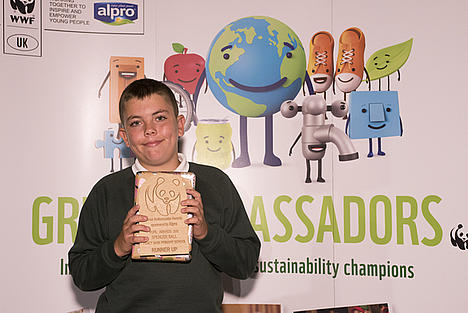 Now in Year 5, Spencer has been a Green Ambassador at Percy Main Primary since the early age of 6 years. He has made a significant contribution to our growing eco agenda and has himself grown into a responsible member of our school community.

His commitment to his role as Green Ambassador for our school grounds is relentless and his teachers are always incredibly proud of his ability to voice his opinions and relate his knowledge and understanding of eco issues to benefit others with such confidence.
---
Green Ambassadors Teacher of the Year 2015
Patricia Opalko, St Edmunds Campion Primary School
Prize: Highgrove celebration hamper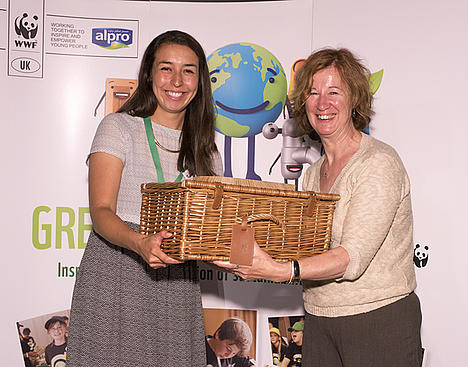 Patricia seemed to have been nominated by every teacher in her school and all the nominations talked about her passion and the way she inspires both colleagues and her pupils.

She constantly keeps the school on their eco toes, educating and demonstrating by her own actions. No light remains on or heat wasted on her beat! She has been relentless in bringing sustainability into the curriculum, resulting in sustainability being thoroughly embedded into a wide range of learning opportunities.

She believes strongly in promoting the education of global issues and conservation of the Earth to children of all ages. Patricia lives and breathes the eco ethic and passes this on to all her pupils and staff. She is passionate that the children will live in a better, cleaner world and have a greater understanding of making this planet a fairer and sustainable place for all its citizens. But it is not just her school that fills her passion.

She is a leading light in helping other schools in the Royal Borough of Windsor and Maidenhead to take a similar approach. Patricia practises what she preaches in her choice of car, her choice of food and her attitude to living. 
---
Green Ambassadors Teacher of the Year 2015 runner-up
Susan Ware, The King John School
Prize: Highgrove hamper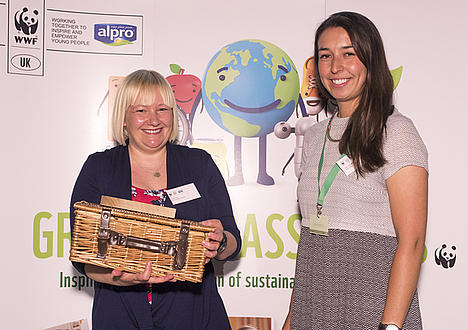 Sue single handily established their Eco Club eight years ago when she joined their school.

She is the driving force behind the green initiatives at The King John School and has encouraged everyone to work together to achieve Green Flag status. With colleagues, she has established a heritage orchard scheme, established an eco-garden, obtained a grant for an eco-classroom and taken children on several trips to support their eco team activities.

Sue is a keen and talented photographer and has established her own website to showcase her nature notes. She is passionate about encouraging children to see the wildlife on their doorstep and regularly undertakes wildlife spotting with them to help encourage their love of the natural world.

She is tireless, enthusiastic and very dedicated to anything green, and would do much more if time only permitted!
---
Green Ambassadors Woking Schools Award 2015
The Oaktree School
Prize: £1,000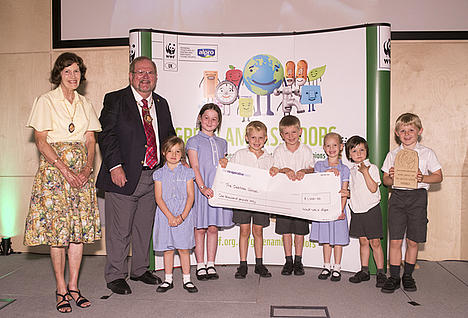 We are delighted to be giving the first Green Ambassadors award in Woking to The Oaktree School. Particularly as they played an early part in the development of The Living Planet Centre by their head being part of the topping out ceremony for the building.

What is clear from this school is that very little hands can get very busy. Despite their age, The Oak Tree school pupils get involved in all aspects of sustainability. From encouraging wildlife to waste and recycling, looking at water and global perspectives and taking part in Earth Hour every year.

Partnerships are key to their success and they work extensively with a range of organisations and they are happy to share their experiences with other schools such as the Surrey eco summit earlier this year.

At the heart of it is the commitment of their teachers to ensure that it is not an add on activity but incorporated strongly into the curriculum. The school feels passionate that their pupils are the citizens of today and of the future and the children should decide their own ideas and actions, resulting in the children feeling a strong connection to the projects chosen and inspired to learn further about their world and their roles in preserving and looking after it.
---
Green Ambassadors Woking Award 2015 runner-up
Sythwood Primary School
Prize: £500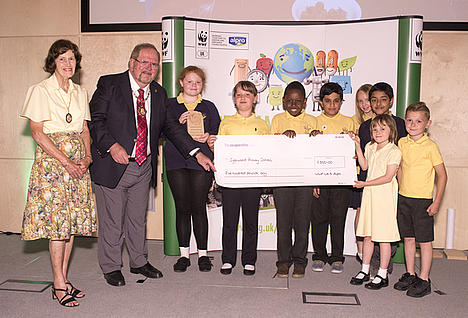 Despite only just beginning their Green Ambassadors journey earlier this year, Sythwood Primary School have made a fantastic start.

Initially their focus has been around growing healthy food and every class has started growing and partnerships have grown with a local garden centre to help take this further. The gardening club has been busy tidying up their garden area.

The school held an environment week after Easter and managed to squeeze in doing Earth Hour and Wear it Wild in the same week! Every class learned about how to be environmentally friendly and the impact environmental issues have on the world. The Green Ambassadors helped plan the week and performed a whole school assembly at the beginning of the week.

Sythwood are excellent at building links with other organisations and here at WWF, it is something we really appreciate. Whether it is taking part in the Wear it Wild parade, attending our workshops or being part of our teacher panel, they are almost at the Living Planet Centre more than some of us! Thank you Sythwood.
---