Learn Autumn 2011
Learn, WWF's free poster resource for schools, provides inspiring and thought-provoking ideas every term to help you and your pupils start thinking about topical environmental issues. The resource includes a poster image and quote, key questions, stimulus activity ideas and background information.
---
Rivers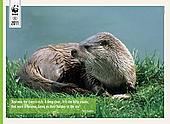 This edition of Learn explores some of the issues facing rivers and freshwater systems across the world and takes a closer look at how our water use is affecting rivers in the UK.
---
Activities
These activities are designed to complement the issues raised in the rivers edition of Learn, our termly poster resource for schools.
Introducing otters
Rainwater harvesting
Freshwater habitats
Water cycle
Saving water
Ripples
Downloads