Think about what you eat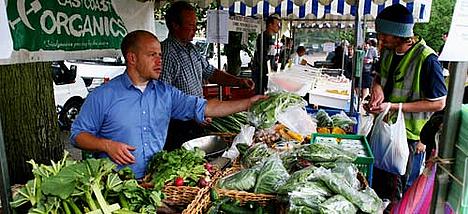 The way we eat has a massive impact on the planet. Food is produced on such a huge scale that changing what we consume really can help cut greenhouse gas emissions and limit damage to vulnerable species and environments.

How do you know what changes to make? Fortunately, what's healthy for the planet is generally healthy for people too. The government's 'Eatwell Plate' already illustrates a healthy diet that contains more fruit and vegetables and far less meat and dairy than most people in this country consume. If diets shifted to meet these guidelines, there would be significant gains for the environment and for health.

We advocate a "Livewell" approach – a diet that's balanced for health reasons and for environmental reasons.

How do I reduce my food impact on the planet?
Livestock is a hotspot in terms of environmental impact that's why one of the most effective choices we can make is to reduce our meat and dairy consumption.

So should I go vegetarian, then?
Only if you want to. But actually most vegetarians tend to have dairy-heavy diets, which can have just as high an impact as some meat-eaters. So if you're vegetarian you could consider reducing your dairy intake for environmental reasons.

Of course, if you want to eat meat or dairy that's up to you – we'd simply suggest that you reduce the amount you eat. And when you do eat meat and dairy products, make selections that are better for the environment. Here are some helpful tips.

What else can I do?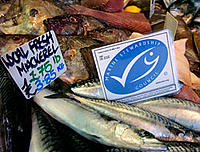 ? Reduce food waste
An alarming 30% of the food we buy in shops ends up in the bin or landfill, or to put it slightly differently, it's like leaving the supermarket with 10 bags of shopping and putting 3 directly into the wheelie bin, the minute you get home. Try to plan your shopping and your meals carefully – and try to avoid waste, using up or composting leftovers. Here are some more ideas for cutting down waste.


? Buy certified produce
There are several certification schemes out there that help the consumer to know the food they buy is making a positive difference. Look for MSC (for fish), Fairtrade and Rainforest Alliance endorsements, and look for products containing sustainably sourced palm oil.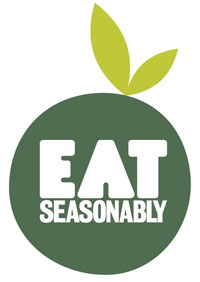 ? Buy food that's both local AND seasonal
This is what foodies and chefs have been saying for years, because seasonal produce is often tastier and cheaper. And it's good for the environment too. You might be able to buy British-grown tomatoes in winter, but they're probably grown in artificially heated greenhouses. In that case it might be a more efficient use of energy and other resources to buy tomatoes grown in natural sunlight in Spain. EatSeasonably has plenty of helpful advice.

? Cut down on processed food
Heavily processed food tends to be more resource-intensive to produce. Try cooking more often from scratch with fresh seasonal ingredients.

? Talk to your supermarket and other food suppliers
Ask them what they are doing to supply more sustainable food AND how they are helping the consumer to make sustainable choices.

What about food miles?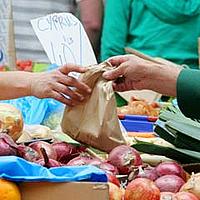 This can be a misleading issue. The impact on the environment from transportation is often actually a minor part of food's overall impact. As we've said, food grown in natural sunlight may have a lower environmental impact that the same food grown less efficiently in a cold climate. And the fact is that many developing countries rely on export markets for their livelihoods.

So buy food that is both local and seasonal and support imported products certified by schemes like Fairtrade, if you can.  Read more


What about organic?

Organic food is good for many reasons, including local biodiversity and reduced reliance on fossil fuel-based fertilisers and pesticides. But it isn't always an affordable solution for everyone. As we've seen, there are other food choices you can make that still have a powerful positive impact on the environment.

For many people some small changes to the way they go about buying and eating food can make a big difference. But if you're considering more substantial dietary changes and you're not sure how to go about it, do speak to a qualified nutritionist or doctor.