DONATE NOW AND JOIN THE FIGHT FOR THE MOUNTAIN GORILLA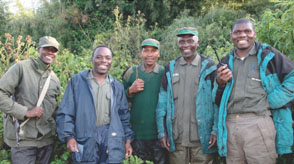 MEET THE MEN WHO RISK IT ALL FOR THE MOUNTAIN GORILLA
These rangers would do anything to protect the last remaining mountain gorillas. But they can only carry out their difficult, dangerous job with your generous support.
Every day, rangers must trek many miles through dense forest and across mountainous terrain. But exhaustion and injuries are the least of their worries. Far worse is the threat from rebel fighters, who wage war throughout this troubled region.
At least 150 rangers in the Albertine Rift have been killed in the line of duty since 1999. But despite the dangers, their fellow rangers continue to patrol the region.
For them, the survival of the mountain gorilla is a cause worth dying for.
Just one casualty of human gorilla conflict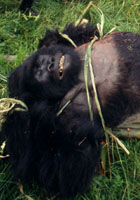 RANGERS RISK THEIR LIVES FOR THE GORILLAS
HELP EQUIP THEM FOR PATROL
Thank you in advance for your kindness

Send a message of support
As well as your donation, why not send a message of support to a ranger. A few kind words would be very much-appreciated and will spur the team on to even greater lengths in the future.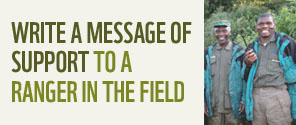 Follow our facebook