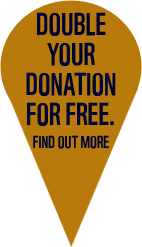 WILL YOU HELP A SPECIAL LITTLE DOG LIKE THIS PROTECT THE LAST 3,200 WILD TIGERS?
Despite there being so few tigers left in the wild, demand for tiger parts drives a ruthless and lucrative international trade. And tragically, more wild tigers will be butchered and sold during the Christmas period - it's a huge problem. But with your donation we can train special sniffer dogs that can detect tiger parts in tiny amounts... helping to combat illegal wildlife trade.
WE URGENTLY NEED YOUR HELP TO PROTECT THE LAST PRECIOUS WILD TIGERS FROM BEING KILLED AND SOLD FOR PARTS.
WHAT YOUR DONATION COULD DO:
Hover over the amounts below to see what matched funding will do to your donation.
£10
COULD HELP PAY FOR TWO COPIES OF THE SNIFFER DOG TRAINING AND CARE MANUAL.
£20
WITH MATCHED FUNDING!
£30
COULD HELP TRAIN AND CARE FOR A SNIFFER DOG FOR A DAY.
£60
WITH MATCHED FUNDING!
£50
COULD HELP PAY FOR A DOG HANDLER TO ATTEND A WORKSHOP ON WILDLIFE LAW ENFORCEMENT.
£100
WITH MATCHED FUNDING!
£150
COULD HELP SUPPORT A TRAINEE SNIFFER DOG FOR ONE WEEK, INCLUDING TRAINING FOOD AND VETERINARY BILLS.
£300
WITH MATCHED FUNDING!
DOUBLE YOUR DONATION FOR FREE... WITH MATCHED FUNDING!
A group of generous donors has pledged to match every pound we raise from this appeal over the next few weeks, up to a total of £45,000. And through this special 'matched funding' programme, we're able to offer our supporters the chance to double their donation to us this Christmas – for free.
NOW YOU'VE MADE YOUR DONATION...
...NAME A SNIFFER DOG.
Everyone who donates has the opportunity to enter our draw to name a brand new sniffer dog puppy.

Once you've made a donation simply click on the link below to enter your submission. Then in the new year, we'll pick a name. Make sure you leave your contact details so we can let you know if you win.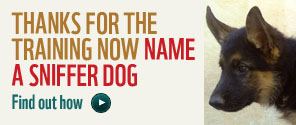 ...SHARE IT SOCIALLY.

...FOLLOW OUR FACEBOOK.