Tigers need trees
A Habitat in Crisis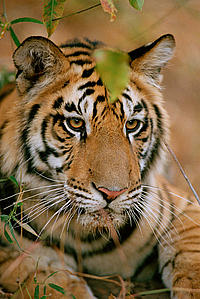 Tiger habitat is disappearing – and so too are the tigers that call it home. Our last estimate of the wild tiger population was around 3,200.
In many parts of the world, population growth and environmental factors are laying waste to the forests and grasslands where tigers live and hunt. In fact, tiger populations are increasingly being squeezed into tiny fragmented pockets of land.

But tigers need space to roam and reproduce, and sufficient prey to sustain them. Unsurprisingly, tigers don't confine themselves to Protected Areas – and so run the risk of conflict with local communities and an increased threat from poachers.

Tigerlands: A Network of Safety
We're helping to create 'Tigerlands', in which tiger populations have the space they need to hunt and roam in safety. In places like the Terai Arc landscape on the border between India and Nepal, we've already helped to protect and connect critical areas of tiger habitat – and are carrying out vital conservation work to restore this once-rich tiger habitat to its former glory.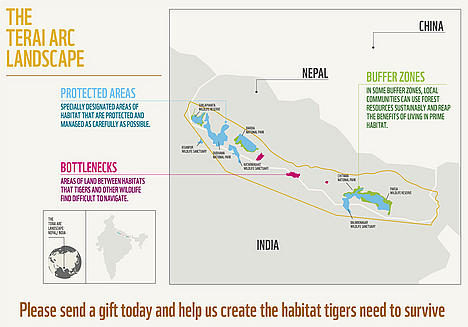 Joining Forces for the Tiger's Future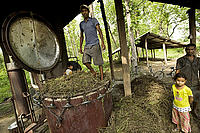 In the Terai Arc landscape, it's vital to find a way for humans and tigers to co-exist. Of course, the forests have long been a source of income and fuel for local people. We're helping to create 'buffer zones' that reduce the reliance of humans and tigers on the same natural resources and give communities a share of income from the forest. We're also helping people explore the possibilities of ecotourism and of alternative sources of energy – like stoves that run on biogas, rather than wood.

Other Tiger Trouble-Spots
In India, pressure on habitat is forcing tigers into closer contact with humans, resulting in conflict and loss of life on both sides.
Logging in Russia could have grave consequences for Amur tigers.
Unless properly managed, new roads and dams in the Mekong region will fragment large areas of tiger habitat.
In Sumatra, the forests that the tiger calls home are being cleared to keep up with the world's demand for paper and palm oil.
How you can help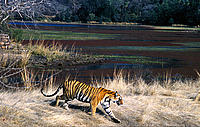 With your support, we can help protect and connect critical tiger habitat.

Your donation could help us to:
Restore grassland habitat where tigers live and hunt their prey
Carry out wildlife surveys in the newly designated Banke National Park in Nepal to get information on the tiger population and their prey to help us concentrate our efforts
Work with senior government staff in India to improve co-operation between different tiger habitats across state boundaries
Commission Geographic Information System (GIS) computers to provide the detailed mapping necessary to plan effective landscape conservation work

I would like to make a donation of:

How your money could help: