Virgin Active
London Triathlon 2013
Saturday 27 & Sunday 28 July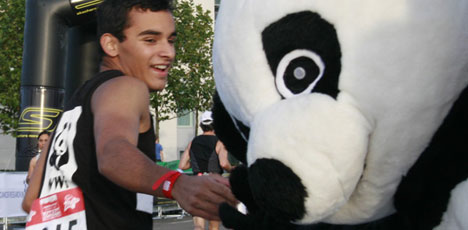 The event
Virgin Active London Triathlon is returning to its rightful slot at the peak of British summertime and will once again be held at the ExCeL centre in London's Docklands.

With demand for the world's largest and most iconic triathlon increasing every year, this event is anticipating record entry figures for 2013.

Whether you are a returning triathlete or considering taking it on for the first time, with distances ranging from Super Sprint all the way up to Olympic Plus - PLUS the Team Relay option for teams - there really is something for individuals of all abilities.

How to enter for 2013
Got a place - If you already have your own place then simly fill out the 'Got a place' form
 
Need a place - If you want to gain a WWF charity place, fill out the 'Need a place' form. For these places we're looking for a minimum fundraising target of £500 and a £50 registration fee
See our 2012 team pics
Well done to all our triathletes who swam, cycled and ran their way to victory on Saturday 22 & Sunday 23 September!
Congratulations to all of our triathletes on 'The Panda Made Me Do It' Team for completing this triple challenge for us over a weekend that seemed to see all four seasons. Team WWF were fabulous and crossed the finish line in high spirits.

We loved the the energetic buzz throughout this event and it was made extra special cheering you all on as you passed our cheer point. Panda loved seeing you and high-fiving with the odd hug too!