Nightrider,
7 & 8 June 2014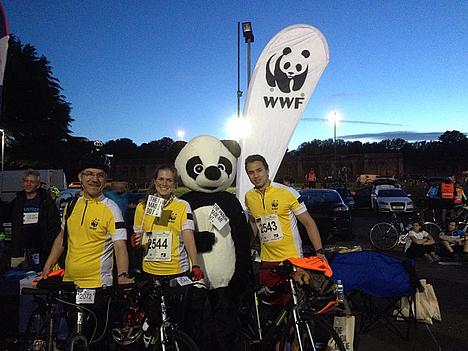 Date: 6 and 7 June 2015
Location: London
Event distance: 100km
Event type: Cycle

WWF do not have any charity places in Nightrider this year, however you can still take part in the challenge for Team Panda with your Own Place. 

Registration fee: £99
Fundraising target: no minimum fundraising target. Raise as much as you can! 

---
About the Challenge
Fancy taking part in a cycling event with a difference? Join over 4,000 cyclists at Nightrider London on 6 and 7 June, to enjoy a 100km circular route past over 50 of the city's most iconic landmarks in moonlight! All while raising vital funds for WWF! So what are you waiting for... Are you ready to do it in the dark for the Panda?
Set off from either Crystal Palace (south London) or Alexandra Palace (north London) and follow the clearly sign-posted road route at your own pace. This will take you over Tower Bridge, through Canary Wharf, around the buzzing Piccadilly Circus, see the London Eye lit up and cycle over the crossing on Abbey Road and much more...

 Please note
The route is fully sign-posted and not closed to traffic.
You should be confident in cycling alongside with London traffic. London's roads are busy even at night, the route is mainly on quieter roads however the route takes is some of London's busy spots such as Trafalgar Square and Leicester Square, which will be busy with public and vehicles.
This event is not a race and not timed, we encourage people to cycle responsibly.
This is a challenge and you will cycle 100km / approx. 62 miles at night therefore you will need to train. This event is not suitable for beginners. Training guidelines will be provided.
How do I sign up?
Once you have completed the Nightrider form, let us know you would like our support by completing our own place form.

Got your own place
How we support you
The WWF team support you every step of the way by providing you with fundraising advice, training tips and all these fantastic goodies including a breathable Team Panda top to wear with pride on the day.