Being part of Team WWF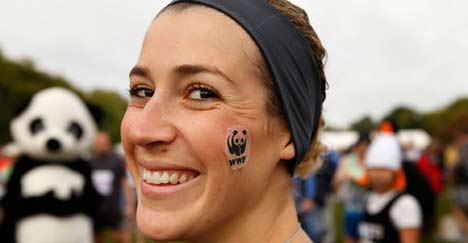 Your support is so important! It will help our work to tackle the most serious environmental challenges facing the planet, building a future where people and nature thrive.
As a fundraiser for us we would love to support you. Here are some of the benefits we offer:

A WWF technical sports vest made from organic, sustainably farmed bamboo with natural wicking and anti-bacterial properties – great for comfort and to wear with pride on the day and when training
Events team hotline
Sponsorship and fundraising guidance
Advice on creating a personal online sponsorship page 
Training advice
Our 'Team Talk' email updates
Information about WWF 
For our own established events, WWF and Panda (mascot) will be there to cheer you on and celebrate your achievement!
If you have any queries feel free to contact us on
01483 426 333
or email us at
challenges@wwf.org.uk
.

Join our band of volunteers
We're always looking for more cheerers and photographers to help out at our events. Your support is so valuable and will make such a difference. You'll be a fabulous part of our team and will meet fellow WWF staff and supporters. We know your time is precious - just a few hours help at any of our events would be fantastic plus event days are always a hoot! We look forward to meeting you.

To join us email us at eventvolunteers@wwf.org.uk

A snapshot of our wonderful world...
We care about how all life on Earth shares our unique planet. We've made this stunning short film to show the breadth of our work and to celebrate the beauty, fragility and resilience of the natural world - and the people whose lives depend on it.