Virgin London Marathon,
Sunday April 2014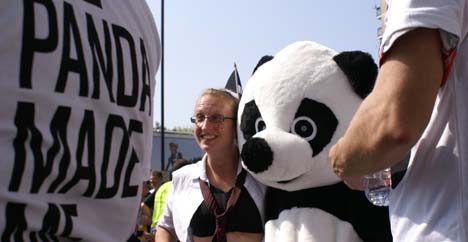 Fancy joining our The Panda Made Me Do It team in 2014?
The official ballot to apply for your own place through the organisers opens early on Monday 29th April. This usually closes in a day so best to be quick off the mark!
In the meantime, if you're interested in running for us either with your own place or to apply for one of our limited charity places then get in touch! If you are applying for a WWF guarenteed entry then we are looking for each person to raise around £2000.
Need a place in 2014 Marathon?
Contact us
If you have any further queries please can call us on
01483 426 333
or by
emailing us
.
How we support you
Training tips
A fundraising pack and sponsor forms
A breathable running vest
Training day with the team
Pre and post-run photos
Cheer pointon the day with the Panda
A 'The Panda Made Me Do It' congratulations party
A sports massage post-run
Well done and congratulations to all our runners who took on the London Marathon on Sunday 21 April 2013.
What an amazing day!