Virgin Money London Marathon,
Sunday April 2014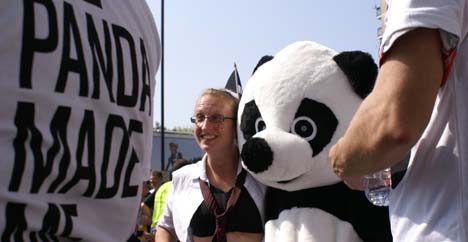 Join our 'The Panda Made Me Do It' team!
One of the lucky ones and got your own place?
We'd love to welcome you to our team!
Join us now with your own ballot place
With over 128 runners in our team, next year's marathon is going to be more amazing than ever. Together we are going to help make such a huge difference in saving our natural world. 

Looking for a WWF place?
We have now filled all of our WWF places in the Virgin Money London Marathon 2014. 
But, don't worry as we still have some places left in the spectacular Brighton Marathon. Plus WWF are one of four major charity partners!
Brighton Marathon is an amazing coastal marathon taking place on SUnday 6th April and is fast becoming one of the marathons to cross off your list. Attracting runners from across the globe, this event boasts a sense of spirit and community like none other and we know it will be up there with the best days of your life.

Get your WWF place in the Brighton Marathon 2014! 
Contact us
If you have any further queries please can call us on
01483 426 333
or by
emailing us
.
How we support you
Training tips
A fundraising pack
A breathable The Panda Made Me Do It running vest
Pre and post-run photos
Cheering along the route on the day with the Panda
A congratulations party
A well deserved sports massage post-run
Well done and congratulations to all our runners who took on the London Marathon on Sunday 21 April 2013.
What an amazing day!