Help save the mountain gorilla
There's still time to save them
Gentle giants
The mountain gorilla is the largest of all the great apes, but is rarely aggressive and leads a tranquil life in family groups. Gorilla families move around their territories by day, feeding and playing peacefully. While the dominant male will show aggression if his group is threatened, in a perfect world gorillas would lead an undisturbed life and trouble no one.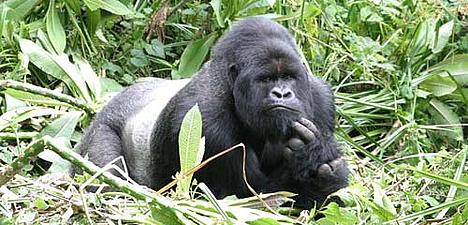 Volatile lands
But the gorillas' home is right in the middle of one of the densest human populations in Africa – in an area dogged by civil unrest and conflict. Only 700 or so survive in just two pockets of forest – Virunga National Park spanning the borders of Rwanda, Uganda and the Democratic Republic of the Congo; and Bwindi Impenetrable National Park in Uganda.

But their survival is under constant threat.

More than 100,000 people live near the forests where the animals are found. Their need for land to grow food has reduced the gorillas' forest habitat to virtual islands in the middle of human settlements. Poaching and capture for the illegal wildlife trade adds further pressure.

Local people respect the mountain gorilla and appreciate the importance of saving them – but understandably their own survival comes first.
Saving the mountain gorilla
But help is at hand. Alongside our partners – the African Wildlife Foundation, Fauna & Flora International and the protected area authorities – WWF is part of the International Gorilla Conservation Programme (IGCP).

We have already achieved a great deal. Since the IGCP's creation in 1991, the number of mountain gorillas has increased from 620 to 720.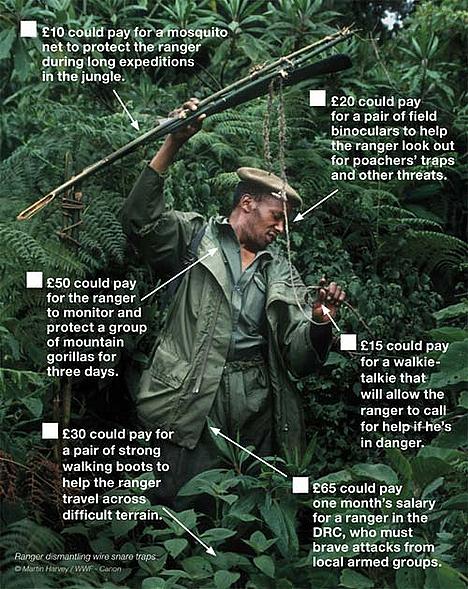 But we need to do more
At the sharp end of gorilla conservation are the park rangers whose job is to defend the last remaining mountain gorillas. Literally in the front line, they are extremely brave, dedicated people. In recent years more than 100 rangers have been killed in the line of duty.

Your donation could help ensure the rangers have sufficient training and tools to protect the last remaining mountain gorillas and make sure their forest home is a safe place to live.