Conrad Shawcross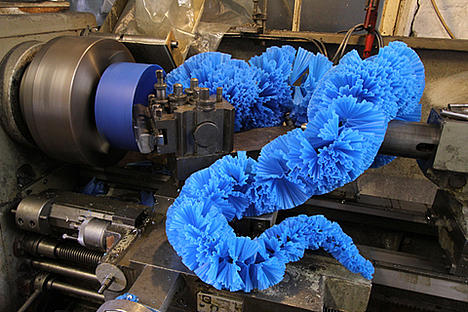 Lot 17
Hyperbolic swarf drawing, 2012
Spun blue nylon Dimensions variable

Estimated value: £5,000

Conrad Shawcross has an ongoing fascination with how we as humans perceive the world and experience time because of scientific developments. His work deals with epistemological ideas, metaphysics and geometry. Shawcross's sculptures are static, kinetic or involve light, and are most often viewed as intellectual 'machines' posing questions of existence, progress and perceptions. He's been awarded numerous international prizes, fellowships and residencies.

For WWF's Pandamonium, Shawcross reinterprets mathematical code into a tactile 3D wearable sculpture to evoke discussion on how natural processes have an inevitable effect even on the most calculated formulas.

---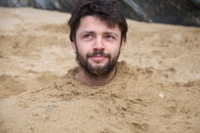 Selected exhibitions/accolades
2012 Set design for Royal Opera House/Wayne McGregor, Royal Opera House, London – Cultural Olympiad
2012 Conrad Shawcross: The Nervous Systems (Inverted), MUDAM, Luxembourg
2011 Sequential, Victoria Miro Gallery, London
2011-12 Protomodel: Five Interventions, Science Museum, London
2011 Lustwarande '11 – RAW, Park De Oude Warande, Tilburg, Netherlands

Selected museum collections
2009-2011 Artist in residence, Science Museum, London
2010 Urbanomic residency, Falmouth
2009 illy Art Prize
2008 Art & Work
2008 award for Space Trumpet, Unilever Commission
2008 International Fellowship at Location One, New York