Lucy + Jorge Orta
Lot 15
Clouds – Extension corporelle, 2011-12
Water bottles, papier maché, resin, paint 160 x 100 x 70cm

Estimated value: £22,000

Lucy + Jorge Orta's collaborative practice focuses on a number of sustainability issues. They tackle ecological and social factors to realise major bodies of work, employing media ranging from drawing, sculpture, installation, couture, painting, film and light. They also stage workshops, ephemeral interventions and performances. In 2007, Lucy + Jorge Orta were awarded the Green Leaf Award.

For WWF's Pandamonium, they've created a series of cloud-like sculptures that wrap around the body, formed using plastic water bottles. These 'clouds' are striking reminders of the danger of plastic waste, and also communicate hope through their bright colours. The full performance includes a series of 'clouds'. The one pictured here is available for purchase.


---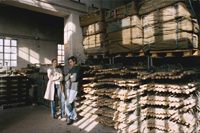 Selected exhibitions/accolades
2012 Antarctica, Festival of the World, South Bank Centre, London
2012 Fabulae Romanae, MAXXI National Museum of XXI Century Arts, Rome
2011 Clouds/Nuages, La Maréchalerie – centre d'art contemporain and the Gypsothèque of the Louvre Museum, Versailles
2010-11 Art Fashion Identity – GSK Contemporary, Royal Academy, London
2007-08 OrtaWater, Hangar Bicoca Milan and the Galleria Continua Italy, Le Moulin, Beijing

Selected museum collections
MAXXI – National Museum of XXI Century Arts, Rome
CNAP – Ministry of Culture, France
Museum of Arts & Design, New York
Golinelli Collection, Bologna
Ermenegildo Zegna Collection, Italy