Pandamonium 2009
Pandamonium 1 was a visually stunning collection of unique works by some of the UK's leading artists - including Sir Peter Blake, Tracey Emin, Jim Lambie, Rachel Whiteread and Paul Smith - all based on WWF's old panda collection boxes.

For Pandamonium 1 artists 'reinvented' the WWF panda, offering new ways to spread our urgent message that the world's rapidly changing climate is affecting people, wildlife and the natural world.

Sorry, to view this video you need Flash and javascript enabled.

The finished pieces were exhibited at Selfridges on London's Oxford Street, from 4 September to 28 October 2009, and auctioned to raise funds for WWF.

For over three decades, our army of sturdy panda collecting boxes stood outside shops and offices around the UK, but were all recalled in 2007.
Rather than recycling the lot, we got together with specialist curators Artwise and challenged top British artists to reincarnate them as innovative and memorable artworks, to communicate the importance of our work in a truly inspirational way.
"WWF and the arts have always been intrinsically linked," says WWF's Head of Design Management, Georgie Bridge. "Our founder, Sir Peter Scott, was a painter and naturalist who developed the original panda logo nearly 50 years ago. It's since become a globally-recognised symbol for conservation, a design heritage we are intensely proud of."

The pieces were auctioned on 12 October 2009 to raise funds for WWF. 
---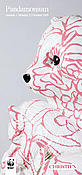 Details of the Pandamonium 1 pieces that were auctioned.