Recycle your clothes
Did you know that in the UK we throw out more than 1 million tonnes of used clothing and textiles every year, most of which ends up in landfill? (Defra, 2007)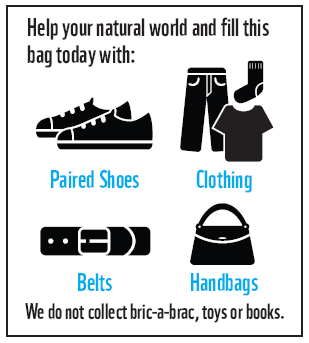 WWF's new clothing recycling partnership offers an easy way to recycle your unwanted clothes and generate vital funding for WWF at the same time.

WWF clothing collections are now happening across mainland UK, organised by our partner, Local Community Recycling Services Ltd (LCRSL). LCRSL will give a generous sum to WWF for every tonne of clothing collected in the WWF recycling bags, so please look out for their collectors and the WWF collection bags in your local area and lend your support!

How can I take part?

Help get everybody involved by holding a WWF clothing collection in your workplace or school. It's a very simple way to extend your support for WWF and to raise vital awareness of the importance of recycling. Everything you need – from promotional materials, to children's activity sheets to collection bags - will be provided and LCRSL staff will pick up your donations and let you know your fundraising total! To find out more or to arrange a collection day contact LCRSL at info@lcrsl.co.uk

Keep an eye out too for WWF's biodegradable collection bags delivered through your door in the coming months. All you need to do is drop any unwanted clothing, bags, belts or shoes into the bag and leave it out on collection day. It's that simple.

WWF's collection bags will always display our logo and registered charity number and all LCRSL collectors carry identity badges. If you have any queries, please call our dedicated collection helpline 0845 0718900 for advice.

What will happen to the clothes I donate?

Our partnership offers a great way for you to extend the lifespan of your unwanted clothing. All clothing, shoes, belts and bags which you donate to us will be re-sold into the growing second-hand clothing market or recycled to make things like industrial wipers or insulating material. So all of your donations are valuable!
LOVE THE NATURAL WORLD?
RECYCLE YOUR UNWANTED CLOTHING.