Volunteer for WWF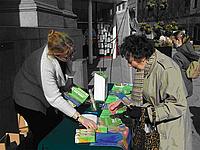 Could you donate some of your time to help WWF? Have fun and help look after the environment for the people and wildlife that depend on it!

There are lots of things you could do, either on your own, or as part of a group, with friends and colleagues from school or work. - WWF needs your time!

Events
Could you raise money for WWF's work by either joining in an organised event or running an event yourself? Visit our events page to find out more! You will find lots of ideas for activities and tips on how to organise your own event.

Campaigning
Just as much as money, WWF needs you to add your voice to ours to ensure a sustainable future for the environment. For more details on how to make the world's decision makers listen, visit our campaigning page.

Other Sources
WWF-UK is unable to offer any opportunities for direct volunteering.