Text for tigers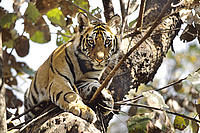 Join Graeme Le Saux, Kelly Hoppen, Jo Wood and lots of other celebrities across the world this week in donating funds towards our tiger work. Your donation will help us protect and connect tiger habitats on a massive scale, as well as support and increase anti-poaching efforts, and clamp down on tiger trade. Together, we can help preserve this majestic icon of the wild and save the tiger for future generations.
To donate just £5 to our work protecting tigers, text TIGERS to 70800 today.

Your £5 could go towards:

A first aid kit for an anti-poaching patrol member in the Western Ghats, India.
Installing an improved cooking stove for a family in Nepal. These enclosed wood-burning stoves are much more efficient than their traditional open stoves and reduce the rate of wood consumption by 30%.
Growing more than 160 tree seedlings in a nursery and then distributing them for planting in critical areas of tiger habitat where the forest has been seriously damaged or destroyed.
You can help us spread the word on Facebook and Twitter too - send the following to your contacts and help raise crucial funds for our tiger work.
Suggested tweets:

Tigers urgently need help. #text4tigers - support @wwf_uk by texting TIGERS to 70800 to donate £5 today

What's it worth to have wild tigers in the world? £5? #text4tigers - text TIGERS to 70800 to donate £5 for tigers today

Help give tigers a safe future in the wild. #text4tigers - text TIGERS to 70800 today to donate £5

Terms & conditions for 'text4tigers':
Texts cost £5 plus your standard network message rate. WWF will receive at least £4.95 of your donation. By donating you agree we may contact you in the future. If you'd rather we didn't, text FINISH to 70800 after you've texted your donation.

Thank you for your support.