WWF's 'Waterside Challenge' app augments reality – naturally
24 August 2012
Want to get out and explore the natural wonders on your doorstep this summer? If you live in or near London, you can uncover the hidden beauty of the capital's waterways – including around the Olympic Park – with the help of the latest mobile technology. We introduce: the WWF Waterside Challenge app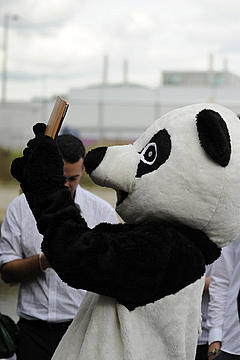 Our new, free, easy-to-use Waterside Challenge app (for Apple or Android devices) uses augmented reality (AR) in some locations, providing you with unique animations and videos.

The app will even help you discover local wildlife, and provide facts, interactive quizzes, and show you how you can make a positive impact on the environment. You can win prizes too, if you register.*

Have fun with our Waterside Challenge app now – and explore the beautiful hidden world of London's waterways.

It's part of our 'The Panda Made Me Do It' campaign, which is our way of encouraging more people to get out and enjoy the natural world - and celebrating the steps people take (even small steps) to help protect it.

The Waterside Challenge app will guide you to, and show you around, 10 specially chosen watery locations across London – from Highgate Ponds to Tottenham Marshes and Regent's Canal, as well as the Hackney Waterside mini-trail that runs from Hackney Wick along the canal to the Olympic Park.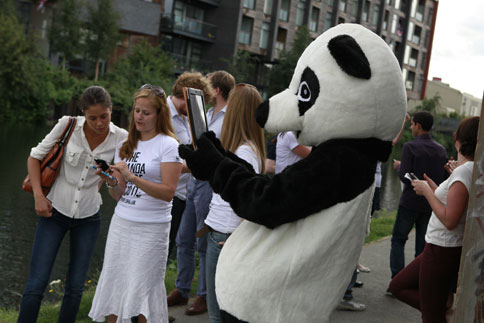 These are precious as well as beautiful environments. The fact is Britain's rivers, canals, lakes and reservoirs don't just provide habitats for a huge variety of plant and animal life – including weird and wonderful creatures like the European eel, brook lamprey and delightful water shrew. They're also the main source of the water we use in our kitchens and bathrooms – not to mention farms and factories. It's really vital we look after them.

We want our Waterside Challenge app to encourage big-city dwellers to get out and about by the water this summer. We're convinced that the more people love and enjoy the outdoors, the more likely they'll be to help protect the natural world, in all its forms.

This is the first in a series of mobile apps we're planning that combines the beauty of nature with the rich information available via digital technology.


---
* Using the Waterside Challenge app gives you the chance to earn 'Panda Points' by answering questions or trying some activities associated with each of the 10 locations. If you earn enough points you might win a prize – like a cool T-shirt that tells the world 'The Panda Made Me Do It', or even some fantastic canoeing or kayaking lessons. To be eligible for prizes you'll need to register – it'll only take a minute, and we'll email you if you win. You can still use the app before registering.
blog comments powered by

Disqus