5 reasons you should care about Rio+20
19 June 2012
You might have heard about Rio+20 in the news – the big UN summit on 'sustainable development' happening this week in Brazil. So what's that got to do with your life, your finances, or your future? Here are just five crucial reasons why Rio+20 matters, to all of us…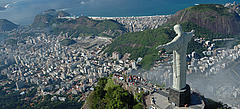 1) It's about all life on Earth – protecting it and valuing it.
That doesn't just mean the forests, rivers and oceans we all rely on, and you hear us talking about all the time. Rio+20 is also about making sure there's a fair and secure future for people – that means you, your children and grandchildren.

2) It's about security and stability.
If we're really serious about having secure economies and stable political systems in the world, first of all we have to make sure there's enough food, water and sustainable energy to go around and meet everyone's needs.

3) In richer countries (like the UK) we're already using far more resources than the Earth can provide.
If everyone lived like us, we'd need a lot more than one planet. World leaders need to face the fact that there can't be economic development and growth without valuing and protecting the precious natural resources – and the people – behind the growth.

4) It's not about stopping economic development. It's about developing in a sustainable way.
A way that doesn't harm the environment, and respects the rights of the world's poorest people. It's about valuing 'natural wealth', and agreeing to end subsidies to polluting and environmentally damaging activities – especially, for example, fossil fuel industries.

5) If not Rio, where? If not now, when? These big opportunities don't come along very often.
We don't expect Rio to achieve everything we need, but it can certainly be a turning point – a shift in the right direction. The outcome of Rio+20 will drive public and private investments for years to come. Trillions of dollars will either be spent on sustainable activities or unsustainable ones. We'll all be affected by those decisions.

It's time for us all to get serious about food, about water, about energy. These issues affect everyone, so we all need to play our part – from families and villages to cities, countries, corporations and politicians.

If we change nothing there will be more poverty, more instability, more inequality. If we want change, inaction is not an option. Time to get involved.


You can…

Say "I care about Rio+20"

Find out more about WWF's hopes for Rio+20, and beyond

Follow the latest updates from our team in Rio

Support our work in any way you can – either by making a donation or becoming a campaigner

Add your comment or opinion below – and like or share with friends...




blog comments powered by

Disqus