Think Of Me As Evil? Opening the ethical debates in advertising
24 October 2011
Published by Public Interest Research Centre and WWF-UK, this report examines the evidence that commercial advertising could exacerbate the social and environmental problems that we collectively confront.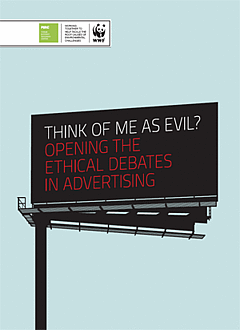 Think Of Me As Evil? presents evidence that advertising may increase overall consumption; that it could promote and normalise a range of behaviours, attitudes and values, many of which are socially and environmentally damaging; that it manipulates individuals on a subconscious level, both children and adults; and that it is so pervasive in modern society as to make the choice of opting-out from exposure virtually impossible.

The report calls on the advertising industry and its clients to take responsibility for demonstrating that the impacts of commercial advertising are benign, and to support precautionary measures until such time as this is demonstrated. It also calls upon civil society organisations to pay much greater attention to commercial advertising and its possible impacts in frustrating delivery on a wide range of social and environmental outcomes.


blog comments powered by

Disqus