National adaptation plans towards effective guidelines and modalities
5 September 2012
This discussion paper jointly prepared by Germanwatch and WWF International highlights some of the key aspects of this important element of the Cancún Adaptation Framework.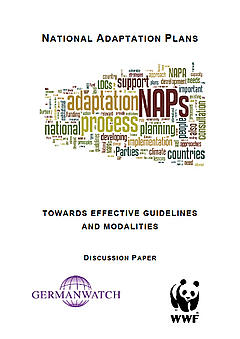 At the UN climate summit in Cancún in 2010 it was agreed to initiate a process for the development of guidelines and modalities for the preparation of National Adaptation Plans (NAPs).

This discussion paper concludes with recommendations for the decisions to be taken, building on the emergence of the concept of NAPs, an analysis of the experience with the National Adaptation Programmes of Action (NAPAs) and similar processes in other environmental Conventions, and a summary of the most relevant views expressed by Parties to the UNFCCC in their submissions.
National adaptation plans towards effective guidelines and modalities discussion paper
blog comments powered by

Disqus