On Picking Winners: the need for targeted support for renewable energy
23 October 2012
A new report, written by Dr Rob Gross and a team from Imperial College with funding from WWF-UK, highlights the importance of policies which specifically support emerging clean energy solutions (such as offshore wind) - and cautions against the suggestion that a carbon price alone is enough to drive a rapid reduction in carbon emissions needed in the UK power sector.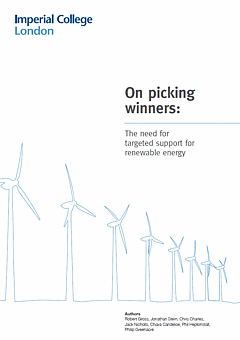 The report argues that although carbon pricing has an important role to play in reducing emissions, it is far from sufficient on its own to bring forward investment and accelerate cost reductions in emerging renewable technologies, or to avoid lock-in to high carbon infrastructure.

The report also finds that targeted financial support policies, such as feed-in tariffs and the Renewables Obligation, create certainty for renewable energy investors and play a critical role in accelerating the deployment and cost reduction of emerging renewable energy technologies.

On Picking Winners, has received support from a wide range of businesses, individuals and organisations, welcoming the contribution of the report to the energy debate.

This report follows our Positive Energy report which was published last year and showed that it is perfectly feasible for renewables to deliver at least 60% of the UK's electricity demand by 2030.
blog comments powered by

Disqus