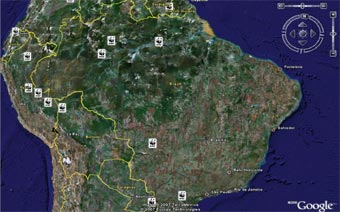 WWF projects can be viewed with this virtual tour which shows how WWF works to save species and people around the world. Web users can see WWF projects from an aerial perspective and then zoom into the finest detail, clicking on regions to read about WWF's campaigns and achievements.
James Leape, Director General WWF International explained how Google Earth highlights WWF's work, such as in the Campo-Ma'an National Park in Cameroon.
"The Campo-Ma'an Park is a nature lover's paradise with 80 species of mammals, including endangered elephants, gorillas and chimpanzees, as well as at least 302 species of birds, 122 species of reptiles, more than 80 species of amphibians, 249 species of fish and a high level of endemic plant life."
"However, it is the local people who make this area so special. The communities living near the park are keen to protect their natural resources but also desperate for economic development. WWF is working in partnership with them to promote community-based nature tourism," said Leape.
To see where WWF is working and our global conservation activities using the latest web technology, download the Google Earth application from www.earth.google.com.
Once this has been done, you can find WWF under Layers > Featured Content > Global Awareness
Learn more about where and how WWF-UK works, by viewing key projects on species, climate change and communities such as in Borneo in Asia, Belize in Central America, Tanzania in Africa and the UK.
WWF-UK projects to control climate change, over-fishing of the seas and threats to coral reefs, wetlands and forests as well as where WWF helps local people can all be seen using Google Earth.
Google, Google Earth and Google Maps are trademarks of Google Inc. in the United States and/or other countries.