Annual Review 2010
2010 was our groundbreaking Year of the Tiger, but also the year of recovering from Copenhagen's climate let-down and rebuilding hope for Cancun. And of course we also united the world again for Earth Hour. Helped prevent a third runway at Heathrow. And continued to work with others to tackle deadly deforestation, find less-damaging ways to grow crops and catch fish, and change the way we all live to conserve natural resources. Quite a busy year, all in all.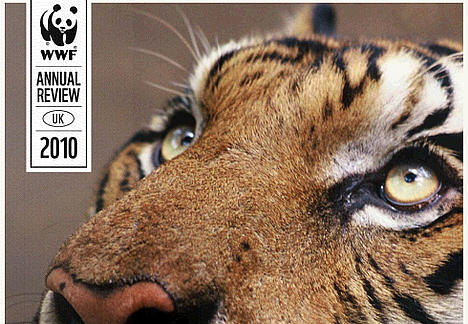 Our latest Annual Review includes detailed coverage of one of our proudest achievements in 2010 – our role in bringing about the crucial Tiger Forum, and the historic pledge by government leaders to double wild tiger numbers.

You'll find out how the disappointment of the non-climate deal at Copenhagen hurt for a while, but in the end made us more determined than ever to help bring about a global climate solution, starting at Cancun in Mexico last December.

And you can see how our massive Earth Hour event did such a great job of focussing global public and political attention on climate change too.

Read first-hand accounts of our work in the Congo Basin to silence the chainsaws of illegal loggers. Hear about out how we've been helping achieve a new law in Brazil that encourages local communities to leave their forests standing. And our involvement in a cotton-growing breakthrough in drought-stricken areas, using less water and fewer harmful chemicals.

And find out how we've been inspiring green-minded businesses like Marks & Spencer to help increase sustainable choices for consumers.

Our annual review as usual includes a summary of the money you helped us raise last year – and exactly how we spent it. And there's a look forward to 2011, and how you can help us celebrate our 50th anniversary.

All this and much more in our interactive, page-turning, online Annual Review, 2010. Have a look.