UN view: how green are the London Olympics?
Posted by Simon Lewis on 02/05/12 09:00 AM
We have a new blogging site
The latest posts from all our bloggers can now be enjoyed at blogs.wwf.org.uk

Achim Steiner, head of the UN's environment programme (UNEP), visited the Olympic Park in late April to review London 2012's progress on all things green. Afterwards he gave us a personal reflection on his trip…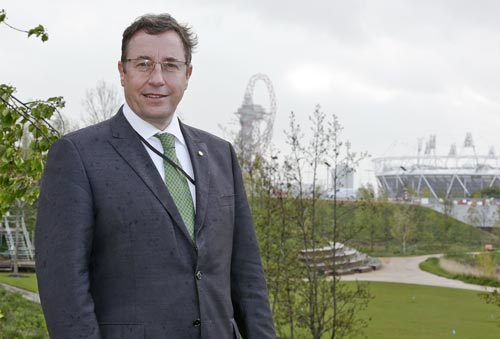 "It was a grey rather than bright green day when I toured the London 2012 Olympic site last week.
As we splashed along paths, through the restored wetlands of the River Lea Valley, and peered into specially created otter homes - designed to increase this species' recovery across the British Isles - the lashing rain, blustery wind and scudding clouds had us all dashing for cover at times.
I'd come to see first-hand the sustainability measures behind the summer Games. And despite the inclement weather, there really were a lot of bright signs - showing that London 2012 is likely to help move the environmental achievements of the Olympics to ever higher levels.
It's clear that the London 2012 sustainability team have been extremely thoughtful about what they're trying to achieve - from efforts to raise the levels of certified and organic food among the 14 million meals that will be served, to the high levels of recycling of construction waste.
Every Olympic city I have visited (as part of
UNEP
's support for the aims and ambitions of the International Olympic Committee) is unique, and hard to compare like-for-like.
London's legacy may well be its regeneration of an old, polluted industrial site, or its efforts to 'green' the supply chain of contractors. Or perhaps it will be the way it has served as a catalyst to prompt a major soft drink supplier to establish a big plastics recycling plant with long-term benefits for the UK.
Equally it might be the development of a much-needed methodology for carbon footprinting of major mass spectator events that can assist the next Winter Olympics in Russia, Sochi 2014, then Rio 2016 and beyond.
Perhaps London will be remembered for the lightweight design of the main stadium and the re-use of old gas pipes for its upper storey ring, or the emphasis on temporary infrastructure aimed at lowering overall carbon emissions.
It will only be when the torch has been extinguished and the full assessment of London 2012 has been completed that we can all judge its performance, its achievements and its legacy.
To my mind, London 2012's environmental measures are perhaps less flashy than some previous events - but equally are less likely to be mere flashes in the pan.
Organising an international event like the Olympics is not easy, trying to balance a multitude of interests. There will always be critics, and London is no different. But I am sure that London 2012 will have many positive sustainability lessons to hand on to future organisers. Just how many, and whether they are gold, silver or bronze - well, let's see."
Achim Steiner
Follow UNEP on Twitter @UNEP
Follow Simon on Twitter @SiKlone
Read Simon's previous Olympic blogs:
Olympic sponsors: The Good, The Bad and The Ugly
Olympic legacy: How sustainable will it be?
WWF's Earth Hour and the Olympics
World Water Day: Andy Triggs-Hodge puts his oar in
Can sport be green? And why is the planet's greatest stadium so vital?
Olympics and WWF.... what's the connection?
Bookmark this:
---
blog comments powered by

Disqus