The fight starts now!
Posted by Anthony Field on 09/08/11 11:13 AM

Last night Hugh gave us a great show that highlighted the issues around reform of the Common Fisheries Policy (CFP).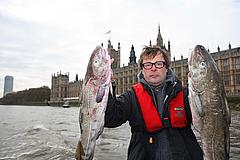 Hugh was spot on with his assessment that the fight continues – in many ways it starts now.

The UK supports reform – from politicians to fishermen and the processors to retailers. The EU recognises that the system is broken and needs reform. However we need to get other countries' Fisheries Ministers and MEPs to support reform. (You can show your support with our petition for reform here).

The next 18 months until the Fisheries Ministers sign off the reform looks like it will be scrappy – there will not be a clear vote for and against reform and the CFP will not be debated in isolation. Negotiations will be wrapped up in other issues such as the Common Agricultural Policy reform and a French presidential election next year.

The More Fish campaign has spread across the EU and our petition highlighting the solutions is getting tens of thousands of signatures.

One thing you can count on is WWF will continue our More Fish campaign and our crucial work with business and fishermen to ensure the reform delivers workable solutions that help deliver healthy seas and thriving fisheries.

You can...
Bookmark this:
---
blog comments powered by

Disqus