Stop Climate Chaos Coalition
Stop Climate Chaos (SCC) is the largest coalition of groups and individuals dedicated to taking action in the UK on climate change and limiting its impacts.

With a combined membership of over 11 million the coalition, of which WWF-UK is proud to be a founder member, brings together over 100 organisations - from environment and development charities to unions, faith-based groups and women's groups. Together, we lobby and campaign for political action in the UK to prevent global temperatures rising to the point where catastrophic climate change becomes inevitable.
---
The Rio Connection
In the run up to the Rio+20 Earth Summit,  local SCC groups held events around the UK, asked their local representatives to show support for action on climate change by supporting our Rio-UK Declaration. Over 100 MPs, from all political parties, signed the declaration. 
---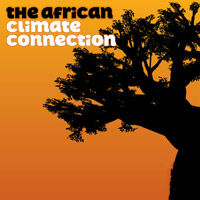 The African Climate Connection
During the UN climate talks in Durban, South Africa in November 2011, grassroots groups connected with each other, and with the climate talks, at African-themed events from African lunches to photo exhibitions around the UK.

One of the highlights of the African Climate Connection was our online debate with Chris Huhne, the UK climate change secretary. On the eve of his departure to the climate talks, Mr Huhne answered SCC supporters' questions. Over 1,000 people tuned in to watch the debate and more than 200 questions were submitted.
---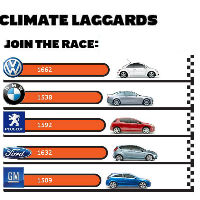 Climate Leaders and Laggards action
We joined the race for a lower-carbon Europe. We took on car companies who are lagging behind progressive business that support a stronger EU carbon emissions reduction target - at least 30% below 1990 levels by 2020.

With SCC we asked our supporters to push car companies to make a choice between the clean economy of the future and the old, dirty economy of the past. In total, more than 1,500 letters were sent.

---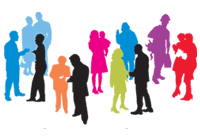 The Big Climate Connection
Starting on 5-6 November 2010, people across the UK from all walks of life - from supporters of the environment and development groups to local community bodies and health professionals - joined up to lobby more than 220 MPs as part of the Big Climate Connection, letting their MPs know they care about climate change.

---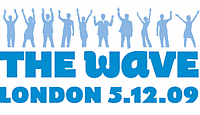 The Wave
In 2009 Stop Climate Chaos organised The Wave - the UK's biggest ever demonstration in support of action on climate change.