Day 9: Anti-corruption, and a very dirty car!
We make the final stretch back to Yaoundé today, a five-hour drive from Bertoua. There are several checkpoints along the way, which we've become used to stopping at during our trip.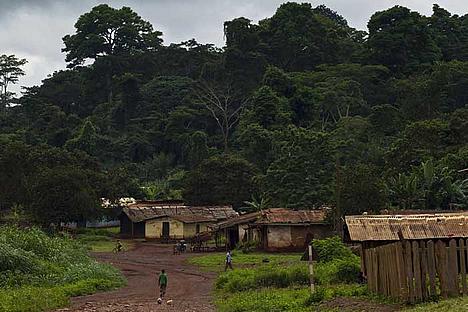 Getting near Yaoundé, we're stopped once more at a checkpoint. The guard asks to check the equipment in the car and a heated argument ensues between George, Louis and the guards.

I'm a bit nervous about this – shouting at an officer doesn't seem like a very good idea to me. After a good 20 minutes and a lot of shouting, Louis and George get back in the car. George looks bewildered. "They wanted me to pay a fine because the car is dirty!" It's true, the car is filthy – but a fine? George has won the argument, and gets away without a fine, just a promise to clean his car.

This is so ridiculous we all laugh – but it illustrates the serious problem of corruption in Cameroon. The officers who stop us appear to think it's their right to ask for money and so they search for an excuse to do so, however ludicrous. It must be incredibly difficult to work with this system for people and organisations who want to do things fairly.

It's a bit of a shock being back in the city after our trip to the forest – it's polluted and noisy.

We go to WWF's Central Africa Regional Programme Office (CARPO) headquarters. Everyone here is really excited about the photos! And I have so many questions after our trip. What is being done about corruption, and the money that should be going to the communities from the logging taxes?

Peter, communications manager, and Norbert, forest officer, tell me that WWF and other organisations influence government policy to try and get more money to the communities it is meant for, and agree how they will use it.

Pressure from WWF (as well as other organisations in Cameroon, and the World Bank, UN and other governments) has helped to push Cameroon's government to launch an anti-corruption drive, which seems to be working – at least one mayor and two ministers are behind bars for embezzlement, which no one ever thought would happen.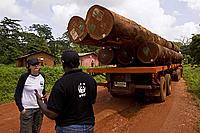 Peter and Norbert also say FSC certification has brought huge changes to the way logging companies work. And seeing this shift to sustainable forest management has made other companies improve too – they don't want to be left behind. Forestry is much more sustainable and transparent than it used to be.

This is all good news – it's really helpful to see this in a longer-term perspective and understand that although there is a long way to go there has been great progress from the hugely destructive logging of the past. And WWF continues to help companies to improve, even those like Pallisco who are already 100% certified.