Where does your wood come from?
WWF investigates: how can we trace wood products sold in the UK back to the forest they came from?
Sorry, to view this video you need Flash and javascript enabled.
That's where forest certification helps. The FSC (Forest Stewardship Council) logo lets you know that a product has been tracked through the supply chain from its original source and tells you it's from a responsibly managed forest. But a lot of wood products we buy are not certified. So where are those coming from, and what does it mean for people and forests there?

That's what we've been asking the industry on your behalf for this report. We set out to track three household products, made of tropical timber and sold in the UK, back to their source in the rainforest.

A new EU law coming into force in early 2013 will mean anyone intending to sell timber products into the UK market will have to be able show where it's come from and that it isn't illegal. Our report suggests that UK businesses are a long way from meeting the demands of that new law.

'Green' claims are not always what they seem
There are a lot of misleading claims about the source and sustainability of the tropical timber we're being sold. One of the main reasons FSC was set up (which WWF was involved in from the start in 1993) was to provide assurance that the wood goods we buy come from well managed forests.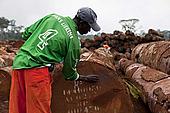 All businesses that harvest, transport or trade in FSC-certified timber must have FSC 'Chain of Custody' certification that they can pass on to the retailer or customer as a guarantee for specific FSC products. This chain of custody shows you they have systems in place that can deal with FSC products. But it doesn't automatically mean that all the products they sell are FSC-certified!

We found that some companies' websites will show off the FSC logo next to their products – for example decking sourced from Indonesia – but on closer enquiry it turns out the FSC decking is only available for 'special orders' and the vast majority of the tropical timber decking they sell is non-FSC.

This is potentially very misleading. It undermines the FSC system, which is designed to give you, as consumers, the confidence that you're buying a responsibly-sourced product.

FSC has strict rules on how a company can promote their FSC products and any ambiguous claims should be reported to trademark@fsc-uk.org.


This is really bad. They're making false promises to consumers, who are led to believe that the products they're buying are legally sourced when in fact they could be from anywhere! In the meantime, rainforests in the Congo Basin are suffering as the demand for timber continues – no matter how it's been obtained.
FSC-certified wood is good
Unlike some of the other timber products we investigated, FSC-certified timber products can be traced through the supply chain. We asked several retailers to show us where their FSC-certified timber flooring, decking and kitchen worktops came from, and they provided us with full supply chain information, tracking the product right back to the FSC-certified forest it came from.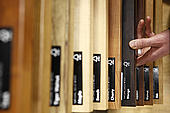 We're pretty lucky in the UK – our timber market has one of the best supplies of FSC wood in the world. So it's relatively easy for British companies to make sure they're buying FSC.

But they do need constant pressure from the public to keep them sourcing responsibly – and of course they need customers to buy their FSC goods!

Make sure you always choose wood and paper that carries the FSC logo, and if you don't see it, ask the seller if they can source an FSC version of the product. The message will get through.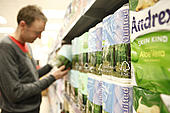 It's not enough just to know wood has been logged legally. Legal timber isn't necessarily always sustainable! It could still have come from forests that have been clear-felled – devastating for the environment – rather than selectively harvested, as FSC certified forests are. Or some tree species may have been over-harvested, which ruins the long term viability of the forest as a resource, or disturbed so much that it loses all value, either for production or as a natural habitat.

By choosing FSC-certified forest products, you can be sure where they've come from, and that they won't have been harvested in a way that causes irreversible damage to forests, people and wildlife.

Where does your wood come from? Read our report.