Green Food Project: more government leadership needed
10 July 2012
The conclusions of DEFRA's Green Food Project have been published today - we believe the project is an encouraging first step, but the government urgently needs to show much more leadership to fix the 'broken' food system.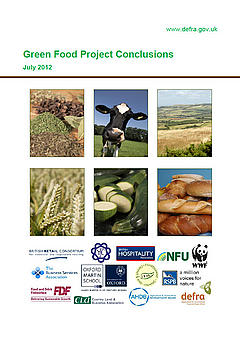 There's no denying the need for action on the food system. The government's own 2011 Foresight report on the future of food and farming gave a compelling account of the urgent need to redesign the food system, and pointed out that the current system is not only a major cause of the destruction of our natural world but is also causing health problems like obesity and heart disease, costing the NHS billions.

Simply trying to ramp up food production is a 'fool's errand'. The question is not how much food the UK should produce - it's not our role to feed the world - but how we address the underlying problems of our food system such as waste, access and diets.

As Mark Driscoll, head of our food team, says: "We support the collaborative approach taken by the Green Food Project as a - very small - first step. But what's really important is the need to take action so we move towards a more equitable and sustainable food system which addresses the twin global challenges of sustainability and hunger."

As we've said before, we mustn't shy away from the need to address difficult issues such as consumption and sustainable diets. Establishing a 'consumption forum' is a useful initiative, but it has to be much more than just a talking shop. It must report back with clear recommendations and a timetable for action from government, business and civil society.

It's vital that the Green Food Project brings 'added value impact' on the issues, and it's ambitious, radical and innovative in approach rather than re-hashing existing initiatives. Some of the project's recommendations are woolly in places and lack specific targets and milestones.

We really need to see a cross-departmental strategy on food, with clear commitments and a timetable to take action to look at the whole food system, from production, manufacturing and retail to food consumption.

Retailers and food manufacturers have a key role to play too in boosting sustainable diets, which must go beyond merely giving consumers information to help them make informed choices. They can be a major influence on consumption patterns - putting all the responsibility on consumers themselves is unrealistic.
You can…
blog comments powered by

Disqus