Livestock impacts
The debate about the impact of livestock on the environment is unhelpfully often characterised as a polarised argument on meat-eating versus vegetarianism. This is misleading – the debate needs to be about sustainable versus unsustainable choices. Unlike your average dairy cow, the issues are not black and white.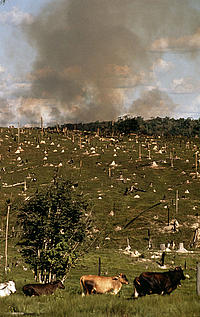 What's certain is that in a world with growing population and so many pressures on land use, the way we produce and consume livestock is an issue we need to tackle:

Globally the meat industry generates nearly 1/5 of greenhouse gases (GHGs), more than transport 1. In the EU livestock production is responsible for 15% of GHGs2 and in the UK it's responsible for about 8.5%3. But his figure doesn't take into account emissions resulting from land-use change (primarily forests cleared to grow animal feed or farm livestock).
WWF's How Low Can We Go report showed that emissions from the food sector as a whole rose from 20% to 30% when taking into account land-use change.
On average, 40% of global grain production is used in livestock feed, although in richer countries the proportion of grain used for animal feed is around 70%4
Water used for livestock production is projected to increase 50% by 2025. It currently accounts for 15% of all irrigated water5.
Producing 1kg of beef requires 15 times as much land as producing 1kg of cereals, and 70 times as much land as 1kg of vegetables6.
What's WWF's position?
The bottom line is that if we want to safeguard the natural world and reduce impacts caused by climate change then we have to tackle the way we produce and consume livestock.

Technology, innovation and production efficiencies may take us a long way and the more we do on production, the less we have to do on consumption. But, for those with with western style diets, eating less meat and dairy is part of the picture.

There is no one solution but we need to face up to the issues. That's why we're exploring ways of reducing the industry's environmental impacts without penalising producers, harming diets or otherwise causing more problems than are solved.

You can

Read all about the Livestock Dialogues - exploring the role of producers, retailers and government in light of these issues.


---
  1.  Steinfeld, H., et al., Livestock's long shadow: Environmental issues and options. 2006, Food and Agriculture Organization of the United Nations: Rome, Italy.

2. Environmental impact of products (EIPRO): Analysis of the life cycle environmental impacts related to the total final consumption of the EU25, European Commission Technical Report EUR 22284 EN, May 2006.

3. Meat and dairy production & consumption: Exploring the livestock sector's contribution to the UK's greenhouse gas emissions and assessing what a less GHG intensive system of production and consumption might look like, Food Climate Research Network, November 2007.

4. Lundqvist, J., de Fraiture, C., Molden, D., 2008. Saving Water: From Field to Fork – Curbing Losses and Wastage in the Food Chain. SIWI Policy Brief. SIWI.
http://www.siwi.org/documents/Resources/Policy_Briefs/PB_From_Filed_to_Fork_2008.pdf

5. Steinfeld, H. et al., 2006. Livestock's Long Shadow: environmental issues and options. Chapter 4. Food and Agriculture Organisation of the United Nations. Rome. http://www.fao.org/docrep/010/a0701e/a0701e00.HTM 

6. Gerbens-Leenes, W. and Nonhebel S., 2005. Food and land use. The influence of consumption patterns on the use of agricultural resources. Appetite 45:24-31. doi:10.1016/j.appet.2005.01.011