Housing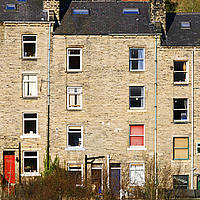 The UK's 26 million homes currently have a huge impact on the environment:

they are responsible for nearly 30% of UK carbon emissions
over half of all the timber we use goes into our homes, and much of it is from unsustainable sources
the average person uses 150-180 litres of water each day and this figure is rising yearly.
There are also other, indirect, impacts which our homes have on the environment. For example, where we live affects our choice of transport and how and where we buy our food.
The challenge
Technological innovations provide opportunities to make all new homes 'zero carbon' – meaning that no carbon emissions are produced from energy used in the home. WWF will therefore continue to support the government's plans for 'zero-carbon' new housing from 2016.

However, the majority of our homes are not new buildings. WWF urges people to reduce CO2 emissions from their homes – by 30% by 2020 and 80% by 2050.
What is WWF doing about it?
Our How Low? report, published in 2008, not only demonstrates how the required carbon savings can be made for new and existing housing but also identifies the policies required to achieve them. We will lobby the government and political parties to help shape policies for sustainable homes.

In business, WWF works with the UK Green Building Council, and is involved in the Zero Carbon Task Force. We have helped to develop and implement the Code for Sustainable Homes which sets minimum standards for energy and water efficiency in all newly built homes. We are also a key partner in the Next Generation benchmarking scheme for the UK's top house builders to build more sustainable homes.

We are working with businesses and government to establish 'retrofit demonstration projects' – projects that will show the ways we can adapt and improve our existing homes to reduce emissions.

We will work with the finance sector to develop new financial products to enable homeowners to retrofit their homes affordably.

We will also work with local communities to raise awareness of the issues and to help inform our campaign for a new government policy on sustainable housing.