Transport – and our One Planet Mobility programme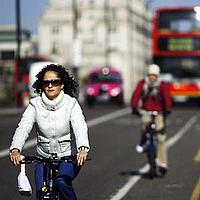 Travel is easier than it's ever been. But that brings challenges as well as benefits. For instance transport is responsible for around a quarter of global carbon emissions.

WWF's One Planet Mobility programme is all about helping to reduce unnecessary travel – especially by car – and encouraging a shift to more sustainable forms of transport. 

The 'mobility revolution' hasn't always brought greater wellbeing for everyone. The average UK commuter now spends 29 working days each year just travelling to work. That's more than five years over a working life. This contributes to physical and mental health problems, with links to obesity, stress, traffic accidents, and damage to community relations.

There are economic implications too – from petrol supplies to vehicle construction, road-building and other infrastructure costs.

Our immediate focus is to help reduce car dependency and to support the phasing out of fossil fuel use. To this end we'll be working with key decision-makers and everyone with an interest in the transport sector.