Soya and Supermarkets
What have supermarkets got to do with soya?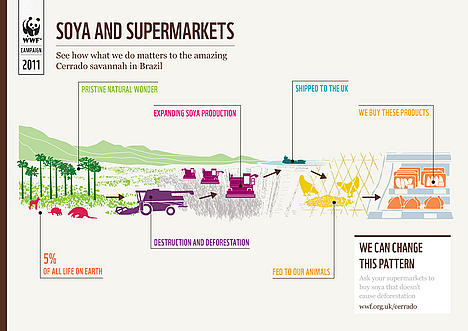 Click on image to enlarge
Each year huge amounts are shipped to the UK and fed to our farm animals, ultimately ending up in all sorts of our supermarket products. Over 70% of this soya comes from South America, where an area the size of Yorkshire is needed just to grow enough soya for the UK market.
Demand for soya beans and soya products is increasing rapidly across the world and action needs to be taken now to ensure that we don't lose wonderful natural habitats to its growth.

Find out more on how the food on your plate is linked with soya. 

---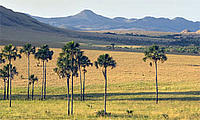 Our Solutions
WWF is part of the Roundtable on Responsible Soy (RTRS) – an international organisation of soya producers, processors, buyer and other key people who have come together to work for better standards of soya production. RTRS requires that soya is not grown by clearing any native forest, and other areas of high conservation value.

We campaigned on getting UK supermarkets to use their buying power positively and only source soya we know has come from independently certified sources.

Read the case studies on how the RTRS works with different stakeholders: from one of South America's largest soy producers to small scale producers in India


---