Sustainable use of forests
Forests are an amazingly rich natural resource, but they have to be properly valued and responsibly managed. We work with producers and consumers to promote sustainable use of the world's forest resources - protecting livelihoods for forest communities as well as conserving forests and their biodiversity for current and future generations.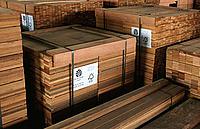 Every year, millions of hectares of natural virgin forest are destroyed to meet the growing global demand for wood, paper and agricultural products. At current rates we risk the permanent loss of these forests and the valuable benefits they provide.

We're fighting on two fronts to end unsustainable use of forests:

1) Working with forest-related industries
We're helping improve forest management through partnerships like our Global Forest and Trade Network, negotiating with the timber trade and others. We also promote forest certification through the Forest Stewardship Council (FSC), and are helping to build the market for sustainable forest products.

We're asking governments to get tougher on illegal and unsustainable logging and we support the European Union Timber Regulation to outlaw the import of illegal timber and wood products into the EU.

2) Changing buying habits
The purchasing choices we all make every day can help to conserve forests. Whether you're a shopper, a retailer or a local authority, find out what wood and paper products don't destroy the world's forests. 

But it goes beyond wood - many other everyday items in our shops may be by-products of deforestation across the world. That's why, for example, we also promote sustainable soya and sustainable palm oil.


WWF-UK's Global Forest and Trade Network is a partnership between WWF and businesses to promote responsible management of the world's forests through trade and influence.

Find out why we recommend the FSC certification scheme - giving you confidence that you're buying responsible wood and paper products.

Find out why the illegal timber trade is a huge global problem, and how we're helping fight it - and how even some 'legal' logging is irresponsible or poorly managed.

Our campaign to tackle the illegal timber trade helps encourage people and businesses in the UK to choose responsible, certified wood and paper products.

One of the biggest causes of deforestation is conversion of forested land to agricultural uses, like growing soya (for farm animal feed) or palm oil (for food and cosmetics).