Switch Asia
Promoting sustainable and responsible trade to small and medium wood processing businesses through Forest and Trade networks in China, India and Vietnam.
Due to unprecedented economic growth and development in India, China and Vietnam, increased demand for natural resources places pressure on valuable and threatened forests at a pace which far outstrips current efforts to ensure sustainability.

Small and Medium size Enterprises (SMEs) in the wood processing sector are proliferating to serve domestic and international demand for paper, furniture and construction materials. SMEs often buy wood that has been produced unsustainably, possibly illegally, which stimulates demand for unsustainable and illegal wood.

The existing (insufficient) incentives fail to encourage SMEs to invest in Sustainable Consumption and Production (SCP) of wood products.

Internationally there is high demand for sustainable wood products, but there are currently insufficient products to meet this demand, and inadequate mechanisms to link suppliers and buyers.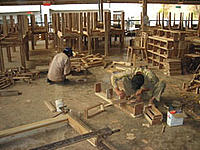 How we're helping
This project is funded by the European Union's Switch Asia Programme which aims to promote SCP in Asia. It focuses on SME wood processors and aims to build their capacity for responsible sourcing and production of forest products. It will link these SMEs with buyers and forest managers that are parts of the Global Forest and Trade Network.

The project seeks to engage at least 600 SME wood processors in the target countries of China, Vietnam and India, to improve the environmental profile of their raw materials. The Action is applying a 3 pronged approach:

Establishing 45 SMEs as new members of Forest and Trade Networks (FTNs) in China, Vietnam and India
Engaging with 600 SME members of partner trade associations
Raising awareness across the entire wood processing sector in the target countries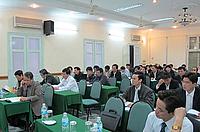 The expected impact of this project is that SMEs will modify their business practices to procure forest goods from well managed forests, which are in turn being increasingly sought by their customers in overseas markets, hence safeguarding business for the future.

Demonstrating the long term market sustainability of SCP will help to catalyse positive behavioural change in adopting environmentally responsible practices.