Indigenous peoples
We were the first major conservation organisation to formally recognise the rights of indigenous communities, back in 1996. We recognised their rights to their traditional "lands, territories and resources" and endorsed the key principle of "free, prior informed consent."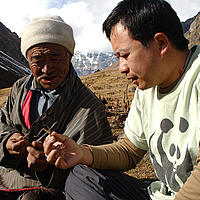 Indigenous people and the environment
As a conservation organisation, we're concerned about the loss of biodiversity and the degrading of the world's environment.

But we're also increasingly concerned about loss of cultures and knowledge.

Indigenous and traditional communities have a long history of managing the environment.

They've gained vast amounts of ecological knowledge as a result – knowledge that could benefit nature conservation and the sustainable use of natural resources worldwide.

We support indigenous and traditional communities to maintain, use and strengthen their traditional ecological knowledge, and use it to manage their resources sustainably. We know how important it is to conserve their cultures and recognise and respect their human and development rights.

This is a difficult and complex challenge. We need to work together with a range of people – everyone from local business to international governments.