Millennium Development Goals
The Millennium Development Goals (MDGs) are eight targets agreed by the United Nations for 2015.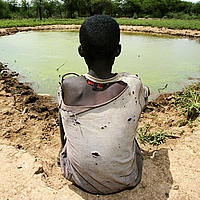 MDGs measure the world's progress in combating some of the world's most pressing issues – poverty, hunger, disease, illiteracy, environmental degradation, and discrimination against women.

The MDGs commit the international community to working together to achieve a coordinated vision of human development.

Environmental sustainability is essential to achieving the MDGs. Environmental goods and services link to the MDGs concerned with hunger, education, gender, child mortality, health and disease.

MDG number 7 is all about ensuring environmental sustainability. But we want to see the environment integrated into decision-making for all eight MDGs, as follows:

1. Eradicate extreme poverty and hunger
Natural resources account for a quarter of the total wealth in low-countries. They provide food and a source of income. Government revenue from natural resources, such as forests and fisheries, helps economies to grow – and provides finance for governments to invest in reducing poverty.

2. Achieve universal primary education
Money earned from natural resources provides an important contribution to household income –and if parents have a decent income it's more likely their children will go to school.

Children, especially girls, may spend several hours a day collecting water and other resources. If these are more easily available, they will have more time for their education.

3. Promote gender equality and empower women
Women play an important role in managing their local environment – for example by collecting firewood, raising livestock and growing food. Many earn money from natural resources – perhaps from farming or making handicrafts from locally grown materials. This can give them some control over household spending.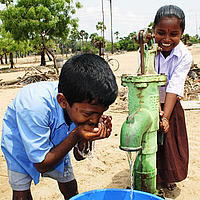 4. Reduce child mortality
Five thousand children die every day from water-related illnesses. Improving access to water is key to stopping this.

5. Improve maternal health
Carrying heavy loads of water and wood for fuel can have a negative effect on women's health, including problems that can make childbirth more difficult.

6. Combat major diseases
Natural products such as fish, fruit and vegetables are an essential source of protein, vitamins and minerals. These help strengthen immune systems and make people less susceptible to disease.

7. Ensure environmental sustainability
This one often seems to be sidelined, but it actually underpins all the other MDGs. Managing natural resources in a sustainable way, and minimising negative impacts on ecosystems, is central to keeping people and their environment healthy.

8. Develop a global partnership for development
Many international environmental problems, such as climate change and depletion of major fisheries, can only be solved through global partnerships. These partnerships include those between rich and poor countries, between private sector, public sector and civil society, and between policy makers and researchers.