African elephant
The African elephant is the world's largest land mammal – with males measuring up to 4 metres high and usually weighing over six tonnes.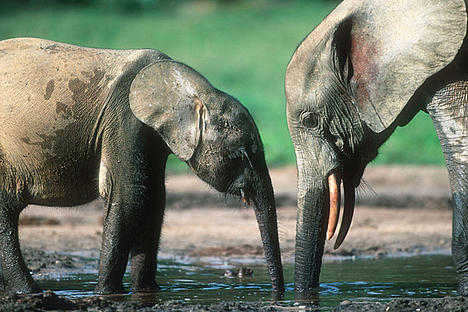 Millions of elephants once ranged across most of Africa, before huge numbers were wiped out by hunting. Today between 470,000 and 690,000 African elephants survive in 37 countries across the sub-Saharan region.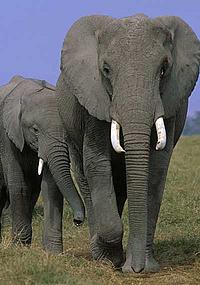 There are two subspecies in Africa: the majestic savannah elephant lives in grassy plains and woodlands, while the smaller forest elephant, with its rounder ears and straighter tusks, is found in the equatorial forests of central and western Africa.

Their conservation status varies a lot across their range - the survival of some populations looks precarious, while others are secure and expanding.

Elephants are important because their future is linked to much of Africa's rich biodiversity. Scientists consider African elephants to be keystone species because they help to maintain suitable habitats for lots of other species in savannah and forest ecosystems.

Elephants directly influence forest composition and density, and can alter the broader landscape. In tropical forests, elephants create clearings and gaps in the canopy that encourage tree regeneration. In the savannahs, they can reduce bush cover to create an environment favourable to a mix of browsing and grazing animals.
Why African elephants need help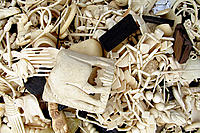 Elephant populations were halved between 1981 and 1989 through systematic poaching - mainly for their ivory, although in central Africa elephants are also poached for meat.
Between 1950 and 1985, ivory exports grew from 200 to 1,000 tonnes per year - most of it from poached elephants.

As a result, in 1989, the Convention on International Trade in Endangered Species of Wild Fauna and Flora (CITES) banned the international trade in ivory.

Since then, only very limited, well-controlled ivory sales have been permitted from southern African countries that have high elephant numbers.

But there are still some thriving and unregulated domestic ivory markets in a number of African countries, some of which have few elephants of their own left. These domestic ivory markets fuel an illegal international trade, leading to continued poaching.

Elephant poaching in Africa has reached record levels in recent years, and Central Africa's unique forest elephants have been the hardest hit. Tens of thousands of elephants are killed each year for their ivory tusks, which are mostly trafficked to consumer markets in Asia.

China and Thailand are the primary consumer countries, where the ivory is carved into ornaments, jewellery and trinkets. Most buyers in Thailand are international tourists, who are probably unaware that it's illegal to bring ivory out of the country.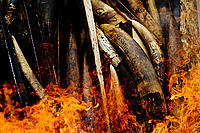 2011 was reported as the worst year for elephant poaching since records began. More than 24 tonnes of illegal ivory was recovered in large-scale seizures (those over 800kg in weight each) in that one year alone, which highlights the increasingly organised and serious nature of this illegal ivory trade.

The government of Gabon, home to more than half of Africa's forest elephants, estimates that poachers killed over 11,000 elephants in and around Minkébé national park rainforest between 2004 and 2012.
Another threat to elephants' survival is the human-animal conflict that results from loss of elephant habitat to logging, agriculture, infrastructure development and human settlement.
Throughout Africa less than 20% of the elephants' range is protected in parks and reserves. As a result, when elephants try to find food and to follow traditional migration corridors through what was once forest or savannah, they may instead find more roads, fields and villages. This can lead to conflict with local people, which can be fatal for both sides.
What we're doing – and how you can help
WWF is working to conserve African elephants by protecting their habitat and improving connections between fragmented areas of habitat that they inhabit.

We're working with governments and local communities to reduce conflict between people and elephants, decrease poaching, and influence policy and legislation to benefit elephant conservation.

We work with TRAFFIC (the wildlife trade monitoring network and joint programme of WWF and IUCN) to reduce illegal trade in major markets for elephant products and to help improve governments' law enforcement to reduce elephant poaching and the illegal trade in ivory.

We're also involved in projects to improve the livelihoods of people living alongside elephants through economic development activities linked to elephant conservation.
In Namibia, for example, we work with the Integrated Rural Development and Nature Conservation (IRDNC), a local NGO, to establish ways for local communities to manage their natural resources so that conservation and rural development are linked – through enterprises such as wildlife tourism. This project aims to reduce conflict between people and elephants and ensure that people value living elephants as an important sustainable economic resource.

In Kenya, we are working on improving the relationship between elephants and people. The aim of the project there is to work with farmers and the local communities to look for ways to reduce conflict with elephants. Using various non-lethal methods we are able to stop elephants raiding crops, and to provide economic benefit to local people.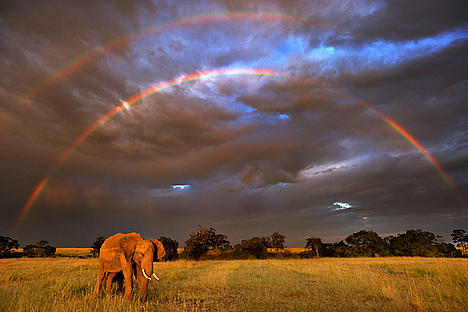 You can…