African rhino
There are two species of rhinoceros found in Africa: the black and the white. Their combined population is just over 25,000.
White rhino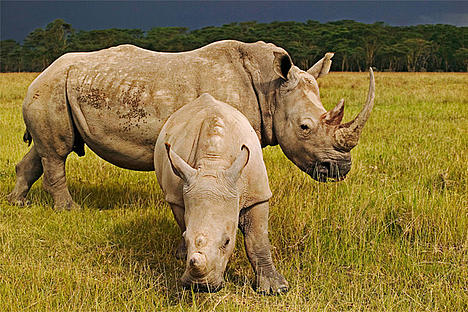 The white rhino, the larger of the two species, is sometimes called the 'square-lipped' rhino because its upper lip is square as opposed to the more pointed lip of the black rhino.

The white rhino actually got its name from the Afrikaans word for wide ('wyd'), referring to the wide square lip. Early English explorers thought this was 'white' and consequently named the other rhino 'black', to differentiate.

There are two subspecies: the northern white rhino, classed as 'critically endangered' by the International Union for Conservation of Nature (IUCN), and the southern white rhino, classed as 'near threatened'.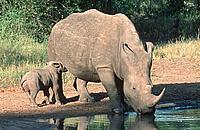 The southern white rhino is one of the world's great conservation success stories.

Once widespread in the bushveld areas of southern Africa south of the Zambezi river, it was on the brink of extinction by the end of the 19th century, reduced to just one small population of around 20-50 animals in KwaZulu-Natal. But then, after years of protection and many translocations, the subspecies grew to 20,160 animals in the wild by 2010.

The northern white rhino, by contrast, has unfortunately continued to decline and is perilously close to extinction; with only seven known individuals left in the wild. Four of these have recently been moved to Kenya in an attempt to re-establish a breeding population.
Black rhino
The black rhino is sometimes called the 'hook-lipped' rhino because of its prehensile upper lip, which it uses to browse and feed on twigs.

Throughout most of the 20th century, the black rhino was the most numerous of the world's rhino species. But relentless hunting and clearing of land for settlement and agriculture resulted in the population being reduced from perhaps several hundred thousand at the start of the century to less than 2,500 by the early 1990s - with an estimated drop of 97% since the 1960s.

There are three subspecies of black rhino. In 2011, the western black rhino was classified by the IUCN as 'extinct'. The three remaining subspecies – the south-western, eastern and south-central black rhinos – are classified as 'critically endangered'. Their numbers are starting to increase, but they depend on strong and urgent conservation efforts.
Why African rhinos need help
Poaching of rhinos and the illegal trade in their horns are the main threats to all African rhinos, despite an international ban on the trade.

For centuries, powdered horn has been used in traditional Asian medicine to reduce fever and as a cure for a wide range of ailments. But demand has gone through the roof in recent years thanks to unexplained rumours in Vietnam about miraculous rhino horn cures. Today it's used as a supposed treatment for everything from cancer to hangovers, while some people consume it purely to be trendy and advertise their wealth.

African rhino numbers were devastated between 1970 and 1992. During this time 96% of black rhinos were killed. Despite increased surveillance and protection, at least 252 African rhinos were known to have been illegally killed between 2000 and 2005.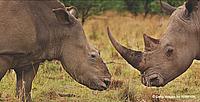 Since then, because of the increased demand in Vietnam, this number has surged. In South Africa, it's estimated that on average at least one rhino is killed every 15 hours. In 2011, at least 448 were killed there by poachers, including 19 critically endangered black rhinos. That's an increase of over 3,000% since 2007.

More than 1,000 rhinos were illegally killed in three years. This is threatening to undermine the achievements of conservation efforts to date.

Political instability and wars have greatly hampered rhino conservation too, exacerbating the threats from habitat loss and poaching.
How we're involved – and how you can help
WWF has been working to conserve rhinos for over 40 years. Our current African Rhino Programme, launched in 1997, provides technical and financial support to 12 rhino conservation projects across Africa, and operates in partnerships with key African rhino range states.

We work with governments, local communities and other NGOs to improve the conservation and management of rhinos by restoring and connecting suitable areas of habitat, improving biological monitoring, sharing expertise, building the skills and capacity of people working with rhinos.

Our work also involves implementing proactive anti-poaching measures, reducing consumer demand for rhino horn and its derivatives, urging improved coordination on law enforcement between source and consumer countries involved in trade, and improving management of rhino horn stockpiles to stop illegal trade.

Another critical aspect of our strategy is to identify suitable habitat that is safe from poaching, into which rhino populations can expand. We work with governments and other NGOs to translocate rhinos from well-populated areas to suitable habitats that are in need of more breeding adults. We also work to update policy frameworks, legislation and law enforcement measures to benefit rhinos and their habitats.
You can…