Dolphin
There are more than 30 species of dolphin. Most live in oceans around the world, but there are also six species of river-dwelling dolphins, found in Brazil, China, Colombia, India, Nepal and Pakistan.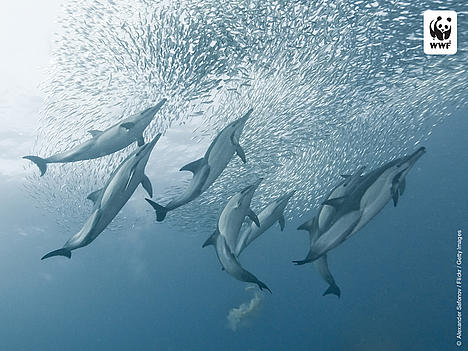 Some species of dolphin are classified as endangered or critically endangered on the IUCN Red List, and a lot more are known to be in serious danger but haven't been formally assessed yet.

Dolphins are generally social animals, sometimes living in pods of several hundred.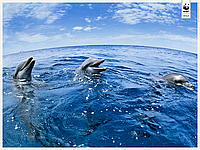 They 'echolocate' by producing clicking sounds and then receiving and interpreting the returning echos. From this they can tell the size, shape, distance, speed and direction of objects – especially their favourite food, fish and squid.

Dolphins are larger than porpoises and have cone-shaped rather than spade-shaped teeth. They have a dorsal fin shaped like a wave, instead of the porpoise's triangular fin, and often have a beak-shaped nose which porpoises never do.

Why dolphins need help
One of the biggest threats to dolphins is accidental entanglement in fishing gear – which can cause them to drown. Known as bycatch, this causes the deaths of more than 300,000 cetaceans (dolphins, porpoises and whales) every year.

Another reason for dolphin decline is depletion of its prey as a result of unsustainable commerical fishing.

Noise from naval operations and seismic surveys (for example for oil exploration) affects dolphins' echolocation, which can cause them to become stranded on shore. Being struck by ships and other vessels can also cause serious and even fatal injuries.

The freshwater dolphin is threatened by chemical pollution in rivers, lakes and estuaries, and at risk from man-made structures like dams and barrages, which restrict its movement and affect its access to prey and suitable habitat.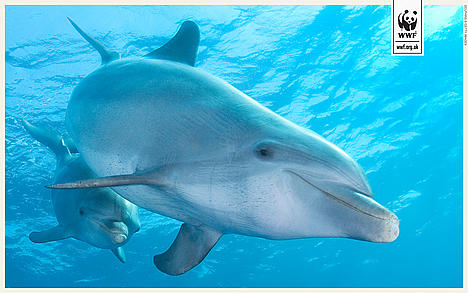 What we're doing - and how you can help
In the UK, WWF campaigned for years for new marine legislation to ensure developments at sea progress in harmony with the whole ecosystem. Finally, in December 2008, the government introduced a Marine and Coastal Access Bill into the UK parliament. The new legislation must improve the way our seas are managed across the UK, while protecting our valuable marine wildlife, including dolphins.

We're helping reduce bycatch by promoting changes in the way fish are caught. We're working with fisheries managers and governments around the world to create, implement and enforce better fishing policies. This includes introducing more selective fishing gear, and educating people in the industry, as well as consumers, to purchase seafood sourced from responsible fisheries.


To halt the decline of the freshwater dolphin, we're supporting projects to reverse the damage to their habitats. For example in China we're working in the Yangtze River basin to improve freshwater habitats and resources for both people and wildlife.

In 2004, WWF helped to re-establish the natural flow of water between Tian'e-zhou lake and the Yangtze river for the first time in 50 years. This has boosted the level and quality of the water in the lake, which is home to the Yangtze finless porpoise. This now allows the natural migration of fish during their breeding season.


You can...