Snow leopard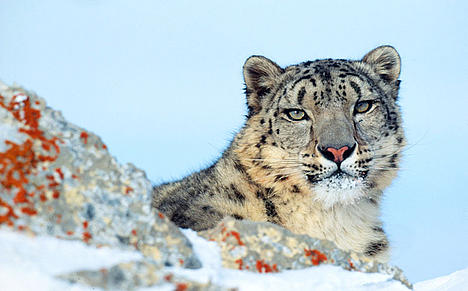 The snow leopard's range crosses several central and south Asian countries, including Afghanistan, Bhutan, China, India, Kazakhstan, Kyrgyz Republic, Mongolia, Nepal, Pakistan, Russia, Tajikistan, and Uzbekistan. But, populations are patchily distributed within this range and animals occur at low densities.

With a global population estimated at less than 2,500 mature breeding individuals, snow leopards are listed as Endangered on the International Union for Conservation of Nature's Red List of Threatened Species.

The snow leopard typically lives at elevations of around 3,000-4,500m in arid and semi-arid shrubland and grassland. In Russia and parts of the Tian Shan in China it lives in open coniferous forest. Generally, however, it avoids dense forest, preferring steep terrain broken by cliffs, ridges, gullies and rocky outcrops.

The snow leopard can kill prey up to three times its own weight, and must kill a large animal about once every fortnight to survive. It hunts ibex, deer, boars, marmots and other small rodents, sometimes turning to domestic livestock when wild prey is scarce.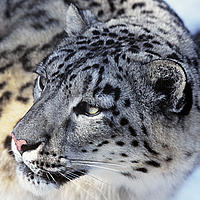 Challenges and threats
Across its range, the snow leopard is hunted for its highly-prized pelt and bones. Despite its protection under the Convention on International Trade in Endangered Species (CITES), which makes the international trade of snow leopards in any form illegal in all signatory countries, poaching to trade bones and body parts for use in traditional Asian medicine is lucrative.

In many areas the fragile alpine habitat of the snow leopards is also becoming degraded and fragmented as a consequence of intensifying grazing pressure from increasing numbers of livestock.

The snow leopard is also persecuted because it sometimes preys on domestic livestock. This is partly due to a declining prey base, which has been over-hunted by herders under the misperception that the prey species compete with domestic livestock for forage. Occasionally this leads to the retaliatory killing of snow leopards by herders protecting their livelihoods.

As grazing pressure intensifies from an increasing number of domestic livestock, snow leopard-human conflict is an ever increasing threat to the snow leopard's survival.
WWF in action
Snow leopards live at low densities but require large spatial habitats. This means that conserving a large population requires an extensive area in which they can roam. As an example, WWF is working to protect the Eastern Himalayan landscape so as to provide large, connected areas in which the leopards can live, hunt and breed.

WWF is working with TRAFFIC (the wildlife trade monitoring network) to help prevent trade in the snow leopard and its body parts.

WWF is also working with communities to help manage the conflict between snow leopards and humans. WWF provides assistance in constructing predator-proof livestock pens and we have also helped set up community-managed compensation mechanisms for farmers who lose livestock.