Tiger
The tiger is the biggest, the most iconic, and also one of the most endangered of all cats. Over the last century wild tiger numbers have fallen disastrously, by more than 95% - mainly due to poaching and the destruction of forests and other habitats they need for survival.
There are only around 3,200 tigers left in the wild. With your help we aim to double that number by 2022.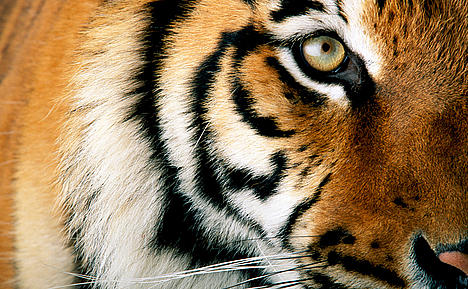 Tigers once roamed across most of Asia, as far west as Turkey. Now they're found only in isolated pockets in increasingly fragmented forests, from India and Nepal to north-east China and far-eastern Russian, and in the disappearing forests of Malaysia and Sumatra.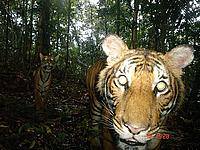 Of the nine known tiger subspecies, only six now remain in the wild: the Bengal, Indochinese, Malayan, Amur (also known as the Siberian tiger), Sumatran and South China tigers. Three subspecies - the Javan, Bali and Caspian - have been declared extinct, and the South China tiger hasn't been seen since the early 1970s.

Tiger numbers can recover if there is effective protection of the animals, their habitat and their prey. And we need to see better enforcement of anti-poaching laws, and a halt in the international illegal trade of tiger parts.


How you can help make this happen...
Watch some beautiful hidden 'camera trap' film of very rare Sumtran tigers in their natural forest home (maybe the camera isn't so well hidden after all, as these tigers seem very interested in it)…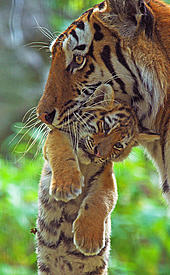 Why tigers need our help
Poaching is a huge problem. Even though the trade in tigers and tiger parts was banned in 1975 (by CITES), killing of tigers for their skins and for use in traditional Asian medicine is the biggest immediate threat to the species worldwide.

A 2013 report published by TRAFFIC found that between 2000-2012, two tigers were killed on average every week.

Habitat loss is the other main issue. Only 7% of the tiger's historical range is still available to them. The rest has been lost to agriculture, forest clearing, roads and rapid, unsustainable development. This has forced tigers into small, isolated pockets of their remaining habitat.

The lack of habitat, and prey, also means tigers are increasingly coming into conflict with people by straying into areas close to villages - resulting in tigers and people being killed
What we're doing to save tigers
In 2009 we launched our global Tigers Alive Initiative, with the aim of doubling the number of tigers in the wild by the next Chinese Year of the Tiger, 2022. At the groundbreaking international Tiger Summit in 2010, governments from all 13 tiger range countries committed to this aim, and the Global Tiger Recovery Plan was created.

Here's a short but insightful chat with Sejal Worah, WWF's conservation director in India, who's also closely involved in the Tigers Alive initiative…



The challenge now is maintaining political will. We work with governments and other partners to follow up on the commitments made and to monitor what's been achieved so far.

Tackling poaching and wildlife crime
We work at international and national levels, supporting government officials, enforcement agencies and communities on the ground to tackle poaching.
We also work alongside
TRAFFIC
(the wildlife trade monitoring network) to investigate, expose and crack down on the illegal trade in tiger products - and to reduce the demand so that this trade is no longer a significant threat to tiger conservation.
Taking a landscape approach
Tigers need large areas of land that are rich in prey species, and have minimal disturbance by people. Tigers play a crucial role in maintaining a balanced and healthy ecosystem - for instance they affect the numbers of other species, such as deer, which in turn influence the forests and grasslands.
'Tiger landscapes' support a wealth of other flora and fauna, as well as the lives and livelihoods of local communities. Protecting a tiger's landscape and their prey will make sure there are enough safe and well-connected areas in which a tiger can live, hunt and breed.
You can...
Adopt a tiger
Donate to WWF
Help us stop illegal wildlife trade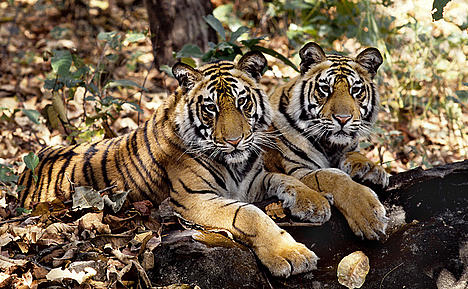 You can also help us reduce the decline in tiger habitats by:
Buying products that carry the Sustainable Palm Oil logo - so you're not supporting the unsustainable palm oil plantations that are devastating Sumatra's most valuable forests - as well as its fragile tiger populations.
Choosing products from well managed forests, which means choosing FSC-labelled wood and paper items. Illegal logging is destroying and degrading vital habitat for Amur tigers and their prey. There are only around 400 Amur tigers left in the wild.
If you're lucky enough to get a chance to visit one of Asia's national parks or reserves where wild tigers can still be seen, look for ethical tour operators where some profits go towards the local communities - or find 'home-stays' where you are helping the livelihoods of local people.
Never buy any 'souvenirs' that might be made from wildlife parts or products.