Tigers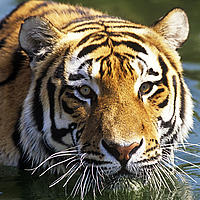 The tiger is the largest of all cat species. It is also one of the most threatened.

There are six living subspecies of tiger: Bengal, Indochinese, Malayan, Amur (or Siberian), Sumatran and South China. The South China tiger is believed by many scientists to be functionally extinct because it has not been seen in the wild for more than 25 years.

There are now estimated to be as few as 3,200 tigers left in the wild, mostly found in isolated pockets spread across increasingly fragmented forests stretching from India to north-eastern China and from the Russian Far East to Sumatra. Wild tiger numbers have fallen by about 95% over the past 100 years, and three subspecies – the Bali, Caspian and Javan – are extinct.
Challenges and threats
Poaching of tigers for skins and body parts used in traditional Asian medicines is the largest immediate threat to the species worldwide. The growing prosperity of the South-east Asian and east Asian economies since the 1970s has led to an ever-increasing demand for these medicines. There are also significant markets among Asian communities in North America and Europe for tiger-based medicines.

Habitat loss due to agriculture, clearing of forests for the timber trade and rapid development, especially road networks, are forcing tigers into small, scattered islands of remaining habitat. An in-depth analysis carried out in 2006 concluded that there was 40% less tiger habitat than just a decade earlier and that only 7% of the tiger's historical range remains. As a result, the numbers of wild tigers and the availability of their prey have steeply declined. This also means that tigers are increasingly coming into conflict with humans as they stray into areas close to villages, resulting in tigers and people being killed.
WWF in action
Tiger recovery has been sporadic, but where there is investment in the protection of habitat and prey alongside effective anti-poaching and trade control measures, tiger numbers have recovered. The conservation challenge is to ensure that sustained measures are implemented to reverse the tiger's current decline. WWF is working with governments, local communities and other partners at a global, regional and national level to deploy effective strategies that will secure and increase wild tiger populations. We are focusing on three main strategies:

Habitat and prey. Our approach is to address habitat availability, security and quality, ensuring that the tiger will have enough well-protected and well-connected areas in which to live, hunt and breed.

Trade in tiger parts and derivatives. Tigers are legally protected throughout their range, and any trade in tiger products is prohibited. WWF is working alongside TRAFFIC (the wildlife trade monitoring network) to investigate, expose and crack down on the illegal trade in tiger products, and to reduce markets, so that trade is no longer a significant threat to tiger conservation.

National and international policy. WWF and our partners will continue to work with governments to strengthen existing legislation that protects the tiger, and to help integrate tiger conservation into economic, development and land-use planning.

Our objective is to double the number of tigers in the wild by 2022.