Whales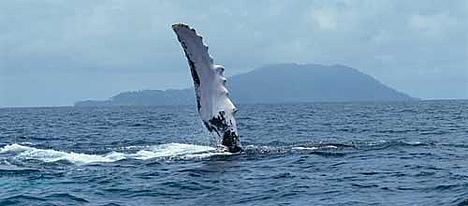 There are 13 species of great whale and several species of smaller whales. Some, such as the blue whale and the fin whale are found in oceans right across the world. This includes around the UK, where the seas are among the richest in Europe for whales. Other species are unique to particular continents; for example the North Atlantic right whale is rarely seen outside North America.

There are two kinds of whale: the baleen and the toothed.

Baleen (or whalebone) whales get their name from its feeding apparatus: a series of comb-like baleen plates that descend from the roof of the mouth. Made of stiff, flexible material similar to human fingernails, baleen acts like a sieve, allowing the whale to strain food such as small fish, krill and plankton out of the water. Baleen whales include the blue and humpback whale.

Toothed whales, which include the sperm whale, has well-developed echolocation, that it uses to locate others and to hunt fish, squid and other marine mammals.

Despite decades of legal protection, seven of the 13 great whale species are endangered or vulnerable. For example, there are thought to be only 3,000-5,000 blue whales left.
Challenges and threats
Around 30,000 small whales, dolphins and porpoises die each year as a result of becoming entangled in fishing gear and drowning. Known as 'bycatch,' this accidental catch is one of the greatest threats to cetaceans.

Whaling is another huge problem. Systematic over-exploitation has brought some species close to extinction. In the Antarctic alone, more than two million whales were killed by commercial whalers during the 20th century. In 1986 the International Whaling Commission (IWC) banned commercial whaling. However, loopholes in the rules mean whales can still be hunted for "scientific purposes". This happens in countries such as Japan and Iceland.

Other threats facing whales include being struck by ships, chemical pollution from industry, and disturbance by noise from navy operations and seismic surveys, and depletion of prey as a result of over fishing.

WWF in action
WWF is working to reduce threats to the whale, including campaigning for an end to 'scientific whaling' through the International Whaling Commission (IWC).

WWF campaigned successfully for the IWC to start tackling other conservation issues such as bycatch, but more action is still needed.

WWF also vigorously campaigned for the creation of the substantial international whale sanctuary surrounding Antarctica, which by historic international agreement came into being in 1994.

In 2005, WWF introduced its Cetacean Species Action Plan, the first global conservation plan for all cetaceans (which includes the whale, the dolphin and the porpoise). It addresses all the key threats mentioned above.

WWF has been working with the Yubarta Foundation in Colombia for more than 10 years to preserve the humpback whale. Around 5-7% of the world's humpback population is found in this area. Its migration route is the longest of any whale species in the world, extending from southern Chile to central Colombia (8700 km). WWF has increased marine and coastal protected areas in the region by at least 20%. This ensures that habitats are legally protected, well managed and adequately financed. Sustainable fishing agreements and practices have been adopted by local fishermen in at least three key areas. This reduces the risk of food depletion and of the whale being caught as bycatch.