Adaptation – living with climate change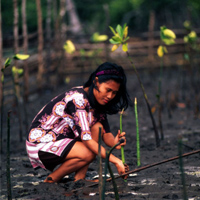 Climate change is happening now, affecting people and nature around the world.

The poorest people and the poorest countries are being hit hardest by climate change. Yet they bear least responsibility for greenhouse gas emissions.



Impacts including extreme weather events and less predictable weather patterns which are affecting human and natural systems.

That's why urgent and strong action to limit greenhouse gas emissions is critical, and must happen alongside proactive climate change adaptation. We believe it is possible to build a 'climate-smart future' for people and nature by working together and valuing the natural world. 
Climate-smart conservation
'Climate-smart conservation' is an integrated approach to climate adaptation that considers the dynamic relationship and interdependencies between people, species and ecosystems.

Adaptation is fundamentally a process that builds adaptive capacity to help society plan for and manage change and uncertainty. We work with partners world-wide to meet both conservation and development needs in a changing climate.

Therefore, our climate smart programmes include five key elements:

Understanding and responding to existing and future climate change, including human responses to climate change, and changes in other conventional threats as a result of climate change
Developing and implementing no-regret actions that address current threats, do not erode options for responding to future climate change, and avoid contributing to greenhouse gas emissions
Taking an integrated approach to adaptation, contributing to nature conservation and fair, equitable and sustainable development
Active learning to build capacity and work collaboratively to plan and respond to increasing change and uncertainty.
Bringing about changes in policy that create an enabling environment across scales (local to international) for adaptive governance.
Note that our work on climate change adaptation is primarily in our priority places. If you'd like to find out more about what's happenning in the UK, you'll find useful information on the Hadley Centre or Defra websites.