Clean renewable energy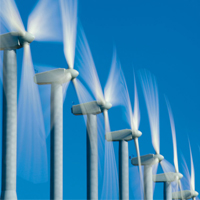 Making the switch to renewable energy is vital if we want to protect the natural world from the impacts of climate change.

Most of the energy we use comes from burning fossil fuels, which is responsible for two thirds of the world's greenhouse gas emissions. And that, as we all know, is causing climate change.


If we can wean ourselves off fossil fuels we'll solve some other problems. Falling production from conventional reserves is already resulting in oil and gas companies to turn to even more polluting sources such as tar sands, or to start drilling in precious environments like the Arctic and the Amazon.

That's why we're asking you to show you back the big switch to clean, green renewable energy by signing up to sign up to WWF's Earth Hour.

The more people that sign up, the more likely the government will listen and push the process forward. Together we have the power to make change happen.
Time to make the switch
In the UK we're fortunate to be sitting on a wealth of clean, green renewable energy from the wind, the sun, and the sea, which, if harnessed, would provide us with more than than enough energy to serve our needs. In fact, we could even sell it to Europe and give our economy a much needed boost.
It's a crucial time for UK energy policy. The Energy Bill, which will reform the electricity market, is currently going through parliament. With almost a quarter of our power stations to be closed in the coming decade, and a legal obligation to meet reduce carbon emissions, it's essential that the government gets this reform right, and leads the UK to a clean, green energy future.
That's why we're calling on our government to set a target to generate at least 60% of our electricity from renewables by 2030 to work towards our vision of a switch to 100% renewable energy by 2050.
You can....