A tale of hope for the Amazon - from Wigan
26 June 2012
The town of Wigan, in Greater Manchester, is thousands of miles from the Amazon rainforest.

But students at St Marks CE Primary School in Wigan have been inspired by the Amazon's plight to help protect rainforests – and have won the WWF-backed Sky Rainforest Rescue Schools Challenge 2012 for their amazing efforts.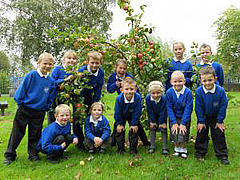 The Challenge, which is open to students aged 8—14, has resulted in a brilliant response from schools right across the UK. Young people get to investigate how the food we eat, the stuff we buy and the energy we use has an impact on rainforests and climate change – and then take action to make a difference.
It's all part of Sky Rainforest Rescue, WWF's joint initiative with Sky to save one billion trees in the Amazon.
Monkey Shoppers & Tiger Munchers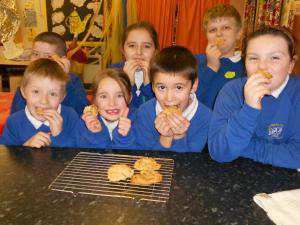 St Mark's winning teams, the 'Monkey Shoppers' and 'Tiger Munchers', impressed judges with their inspirational activities ranging from collection boxes for recyclable materials, fashion shows using recycled material, and displays on re-using, to growing herbs in a sensory garden, talking to staff and pupils about Fair Trade goods, and holding a Fair Trade stall for children, parents and visitors.
Over the two years of the Challenge programme, nearly 18,000 students have taken part in rainforest-themed assemblies, over 4,000 students have learned about deforestation, and some 27,000 students and approximately 13,700 student family members have been surveyed on their knowledge of rainforest-friendly products and behaviour.
Sky Rainforest Rescue Schools Challenge is a partnership between Sky, WWF and Global Action Plan.
The Challenge results
Overall winner and English winner – St Marks CE Primary, Wigan
Scottish winner – 'Staffin Scorpions', Staffin Primary, Portree
Welsh winner – 'Energy Rescue', Rhymney Comprehensive, Rhymney
Northern Irish winner – 'The Forest Rangers', Gillygooley Primary, Omagh
Highly commended – 'Ecobugs', Netherfield Infant School, Mansfield; 'The Capuchin Crew', Sir Harry Smith Community College, Peterborough; and 'Year Five Explorers', Spring Grove Primary, Isleworth
Each of the country winners get £1,000 and the overall winners will enjoy a special Sky studio tour.
blog comments powered by

Disqus