Moving on
Why flying less means more for business
Business is finding new ways of working and changing their travel and meeting practices. The need to save money during the recession and a commitment to cut the carbon footprint from travel, were found to be the main drivers for companies.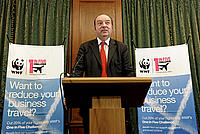 The findings from our Moving On report demonstrate that the latest conferencing technologies, such as videoconferencing are creating a culture change in working practices. There was also evidence that these are permenant changes and companies do not want to return to high levels of flying. This report also shows that the UK's top companies can remain profitable and cpmpetitive without needing major airport expansion.

The report was published in March 2011 by Critical Research who carried out 158 interviews from a sample of 500 of the UK's largest companies.

The key findings of the report were:

47% of companies have reduced the number of business flights they've taken in the past two years
Of those companies which have cut their flying, 85% do not intend to return to 'business as usual' flying
86% of companies are either reducing their carbon footprint from business travel or intend to do so
63% of companies that responded now have a policy in place to reduce business flights, or are intending to develop one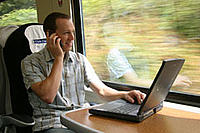 The report showed that businesses backed investment in a more affordable and efficient rail network in the UK and Europe. There was also widespread support for nationwide high-speed broadband and tax incentives to boost videoconferencing and other corporate green initiatives.

Instead of building more runways and airports, we are calling on the government to undertake improvements to the rail network and invest in high-speed rail, as well as reducing the cost of train travel.